She says she wants to be sure that UBC Okanagan and Okanagan College are providing the grads required by tech industries, but she also sees the need for curriculum changes at the high school level.
"We need to make sure we are delivering a curriculum for kids in high school, an animation curriculum for example, that would be specifically applicable to the jobs that you can get at Disney here," she says. "Those kids can go from high school with very little post-secondary education and go straight into a job, if that's what they want to do. Buy a home, start their life, get married, have kids—all those things right out of high school, we should be making that possible."
It's the marriage of post-secondary institutions with the private sector that will bring true economic bliss, Clark says. "No one wants to go and get a four year degree and find out that it is not useful, and have to go back and do another degree."
For Clark it is about getting the mix right for educational funding, making sure it matches the real needs of the economy and matching up education with jobs for people.
"Because of the liquefied natural gas industry alone, we'll be creating more jobs in British Columbia than we have people for, so we better make sure every British Columbian has access to the training they need to take advantage of those jobs. I want British Columbians to be working in those jobs first."
Clark also sees the LNG strategy providing a payoff for the Okanagan. She says her government will act as a "matchmaker," connecting BC businesses with the multi-national corporations behind the proposed projects.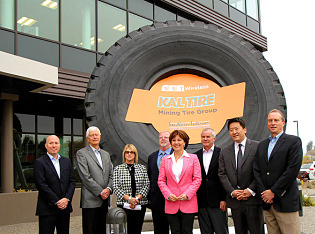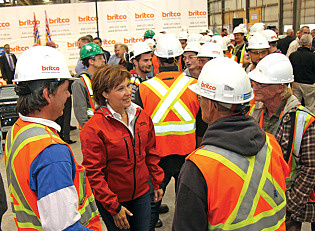 "These huge multi-national companies are coming in, locating in BC and they do hundreds of billions of dollars of business around the world. We want them to put down roots in our communities and we want them to buy as many products from British Columbia as possible."
Clark is already praising the work of local companies like Penticton's Britco, which has the ability to supply all the temporary housing needs for LNG; Vernon's Kal Tire, the world's leading earthmover and mining tire specialist; and West Kelowna's Alpine Helicopters.
Looking ahead
Less than a year into her mandate, the Valley's newest MLA has already made her mark in the annals of British Columbia politics. The second woman to serve as premier, Clark has held this position the longest and was the first to lead her party to victory in a general election. While Clark has not yet established a residence in the Valley, her local constituents are eager to see how the premier will make her mark as an Okanagan MLA.
[fbcomments]
[/et_pb_text][/et_pb_column][/et_pb_row]
Read more of the original stories celebrated in our 30th-anniversary issue.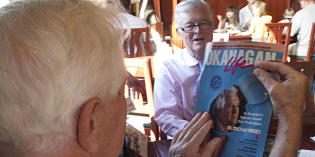 Fall 1988 The plunge into the world of art paid off for Robert Dow Reid. The shipyards of Scotland where it all began may be a long way off, but for this internationally renowned sculptor, the ocean of his boyhood is ever present in the enduring and beautiful shapes...
read more
[/et_pb_section]