Award Winning Realtor
To say realtor Amanda Westrheim is passionate about the Okanagan Valley lifestyle would be a huge understatement. She feels a strong connection to this area with deep family roots and a love for everything this all-season playground has to offer, from the lush vineyards to the beautiful Lake Okanagan waterfront to the friendly people who call this area home.
"I sometimes feel like a tourist myself because I enjoy this lifestyle so much," says Amanda. "Going to local wine tastings, boating and wakeboarding on the lake in the summertime, snowboarding in the winter—there's never a shortage of things to do. I'm reminded every day why I love where I live."
Amanda absolutely loves what she does and it clearly shows. She's driven to make a positive difference in the community every day by providing a higher standard of service. She brings a depth of knowledge in the local Okanagan real estate market that she uses to guide her clients to exceptional results.
Whether you are a first-time buyer looking to purchase your very first Okanagan property, a current homeowner looking to sell and move up into your dream Okanagan Valley home or an investor looking to make the most of your opportunities in this resort destination, you can count on Amanda to give her all for you and help you make sound real estate decisions. She's focused, experienced and committed to helping you build a brighter future one move at a time.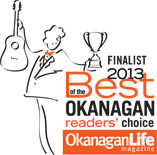 Amanda wants you to Love Where You Live, so call her today at 250.863.9230 or 1.888.301.2121 and get more out of your next real estate experience.
Amanada is a realtor with Century 21 Kelowna, a finalist for Best Real Estate Company in the Central Okanagan

Okanagan Life's Progress issue is published annually and brings you Okanagan Valley business stories told by the people behind them. See the full digital edition online.