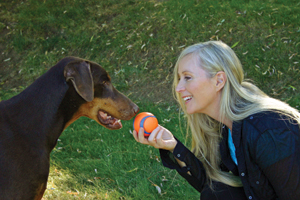 Cynthia Kereluk and Paul Rodgers, Summerland's beauty queen/rock legend couple, lend a helping hand to animals in the Okanagan and around the world. "I love animals and I love my hometown of Summerland," says Cynthia. Winner of the 1984 Miss Canada title, she later became a fitness guru with her own television exercise program.
In 2007, Cynthia married English-born Grammy winner Paul Rodgers and the couple settled in Summerland. Paul is best known as a member of the rock bands Free, Bad Company, The Firm and Queen. He wrote and sang lead on such memorable songs as Feel Like Makin' Love, Can't Get Enough and his biggest hit, All Right Now.
Both serious animal lovers,
the couple share their home with Saxon, an elderly SPCA rescue Doberman, and seven cats.
This past summer Cynthia gave Critteraid, a Summerland-based animal sanctuary, a big boost. She purchased the building located at 10118 Main Street and offered the upstairs rent-free to Critteraid for its Charity Shoppe.
The Shoppe's Canada Day grand opening was a smashing success.
"Paul was here until late the night before we opened helping us set up," says Deborah Silk, Critteraid founder and president.
Cynthia's second reason for her purchase was to help keep Summerland's Main Street alive. "I believe in putting your money where your heart is," she says.
The Shoppe offers carefully selected donated goods ranging from fine china and clothing to furniture and pet supplies.
"I come here at least once a week. There is always something new and it is always high quality," says customer Lee Fisher.
Deborah and Cynthia are pleased that donations and shoppers come from up and down the Valley. All of the proceeds go to help the animals.
Cynthia joins other Critteraid volunteers in operating the Shoppe, which is open Tuesday through Friday and Sunday from 11 a.m. to  4 p.m. (although sometimes later). Saturday hours are 8 a.m. to 5 p.m.
Cynthia says she's working as much as possible now because January through April she'll be with Paul on the Rock Meets Classic tour of Europe with the The Bohemian Symphony Orchestra Prague.
Last year she arranged for Critteraid to host a raffle at Paul's concert in Kelowna and this year she covered the shortfall on a stable project.
Paul and Cynthia are also benefactors to other animal charities.
The Willows Animal Sanctuary in Scotland and the Racehorse Sanctuary in England receive much of their attention.
This summer Paul and Cynthia became Patrons of Willows, a sanctuary for severely distressed animals, and organized a raffle that raised much-needed cash to save it from closing.
Raffle items included autographed guitars donated by Paul and Brian May of the rock band Queen.
Cynthia's brain-storming talent also assisted Willows in making an arrangement with a wind turbine company to provide the sanctuary with free power and to pay rent for use of its land.
Over the years, Paul has performed concerts to benefit the Racehorse Sanctuary and recently, provided an interest-free loan to purchase suitable property when it became necessary for the sanctuary to relocate.
The couple provides financial assistance to other animal charities including Animals Asia and the World Society for the Protection of Animals. —Susan McIver
---
[downloads category="current-issue" columns="1″ full_content="yes"]