At Centre Court with the Okanagan's Vasek Pospisil



It was an overcast July day last summer at the All England Club centre court at Wimbledon when Vasek Pospisil raised the championship cup over his head. Victory on the largest, and oldest, tennis stage in the world came quite unexpectedly to the young 24-year old, who as a child dreamed he could be there one day, if only to compete, well alone win the title.
Now he stood in celebration with doubles partner American Jack Sock at his side. Winning the title for the unseeded pair came as a shock to the tennis world and themselves. At the start of the season, Vasek had pulled out of men's singles play at the Australian Open with back pain and had only just began to feel better as the summer grass-court season arrived. His unknown health status had left him heading to Wimbledon without a doubles partner, until an unexpected text arrived from Jack.
"I was ranked 30 at the time and he needed someone high-ranked and I didn't have a partner at the time," said Vasek. "When we didn't do that well in singles, we gave the doubles a go, and tried our best. It ended up being the best week and the best tournament in our careers."
In a three-hour match that came down to the final game and a fifth match point, the pair made tennis history and Vasek became the third Canadian ever to win a Grand Slam title. In a world tour that crosses every continent, the top four tournaments with the most ranking points, prize money and competitive play make up the Grand Slam: the Australian Open in mid January, the French Open in May, Wimbledon in July and the US Open in September. Achieving a "grand slam" refers to capturing all four titles in a single calendar year, a feat last achieved in single's men play in 1969.
Starting at Love
The 2014 Wimbledon victory begins with a father's sacrifices made for a son, and a game that starts with love.
Vasek's father, Czech-born Milos Pospisil, immigrated to Canada to sunny Vernon in the Okanagan Valley where he would work at the local brewery, raise his family and share his passion for the sport with his three sons.
"My dad is the reason I am where I am," says Vasek. "He's passionate about tennis and started coaching my brothers, and when I came along started coaching me. I fed off his enthusiasm and passion, and I fell in love with the game too."
It's a passion that fuelled a lot of travel time for the youngster. Every day for almost six winters, they'd travel down to Kelowna to use the indoor courts and hit against top club players, then make the 40-minute trip back home in the dark and snowy roads.
At the age of six, Vasek played his first tournament (an U12 competition) and to the family's delight, ended up winning the whole thing. By the time he was nine years old, he'd won the U9 Little Mo US Nationals, but as he writes in his web biography, "I shouldn't brag too much because I played against a little girl in the semis and the tournament didn't really have enough kids to even make younger categories."
The young Vasek was competitive and confesses he would often sneak into his brothers' room to count how many trophies each of them had and then tallied his own in hopes of surpassing them. That competitive spirit still drives him.
"I have big dreams and big goals but I'm also realistic, striving for what I can reach at the moment. For sure, my goal is to crack into the top ten, but as soon as I reach a goal of mine I'm never really satisfied where I am. I am so driven and so want to improve, so if I continue with that mentality and frame of mind there is no telling where that will take me."
Improvement is a constant mindset for the young athlete who says, "every time I step on the court I'm trying to get better."  It's a work ethic supported by his entire family.
To advance his tennis career, the Pospisil family moved to Vancouver when he was only 12. He, his mom, brothers and two golden retrievers all lived in a one bedroom apartment just a few blocks from the tennis courts in the Kitslano community, courts that now bear a plaque outlining the young tennis player's fame. The ceremony took place during the 2015 Davis Cup this March and Vasek fought through emotions as he offered a heartfelt thank you for his family's support.
For two years, Vasek worked with new coaches in Vancouver?—?the first lessons from anyone other than his dad?—?while Milos stayed in Vernon, working harder than ever and trekking out to Vancouver to see the family during the weekends.
During those father-son weekend matches, Milos noticed that his son's footwork, always a strong point, was sluggish and technically flawed and he grew increasingly unsatisfied with the coaching change. In September 2004, he made one of his last trips back to Vancouver from Vernon, quit his job at the Okanagan Spring Brewery, sold the house in Vernon, and stepped in as coach to his now 14 year-old son.
That next summer, the family travelled back to the Czech Republic. "The tennis centre in Prostejov took us in with open arms," says Vasek. "They were amazingly open and kind to us and offered me the facilities free of charge." Throughout his teenage years, Vasek would return each summer season to train and compete on European soil.
See page two.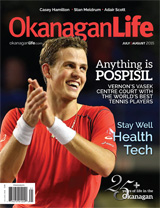 Our July-August issue features tennis champion Vasek Pospisil from Vernon, BC on our cover. Writer Yvonne Turgeon follows Vasek Pospisil's tennis career from the tender age of 6 years to hoisting the Wilmbledon Championship cup last July. Wine writer Michael Botner explores the new wine route in cool Kamloops. From herbs to scans, writer Dona Sturmanis catches up on the latest health services on the Thompson Okanagan region.