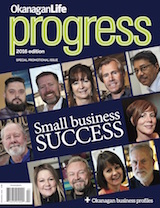 Progress 2016 brings you the latest from these Thompson-Okanagan businesses:
Argus Properties
Beachcomber Home + Leisure
Big Audio Productions
Bohemian Café & Catering
Boyd Autobody & Glass
Central Green
Country RV
DermMedica
Dilworth Homes
Downtown Vernon Association
Fawn Run at The Ponds
KGH Foundation
Minstrel Café & Bar
PARS Homes
Roger Watts Advocacy Debate
Scorched Earth Winery
Skaha Hills
Sleepy's
Sparkling Hill Resort
Sticks & Stones Desgin Group
The Cottages
The HerbalHealth Centre
Third Space Coffee
West Harbour
---
Be in our pages
Bring added credibility to your brand, and take advantage of the powerful engagement with our readers.
Advertisement features, or 'advertorials', can be submitted — or crafted by our professional writers— and enable you as an advertiser to use the voice and style of the magazine to tell the story of your business. Call Paul at 250-861-5399.
Annual Plans Okanagan businesses can extend their marketing reach with a full year plan. See the Choose your plan PDF for details on our package bundles.