Best Restaurants
Where to eat, dine and drink. The Best Restaurants brand is one of the most recognizable in the Okanagan Valley. For more than 20 years, Okanagan Life readers have voted for their favourites dining spots in  Kelowna, Penticton, Vernon and across the Okanagan Valley.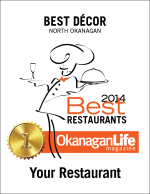 Promotions
Restaurant award winners can order certificates or download logos for use in the marketing. See our Promotions Page.
Paypal is a our secure payment gateway but an account is not required. For direct credit card payment processing, look for the link near the bottom of the payment screen.
Each month, we're giving away 30 free annual digital subscriptions to celebrate our 30th year in publishing! With a digital subscription, you can enjoy Okanagan Life on your tablet.
Canadian residents only.
Canadian residents only.
Read Okanagan Life on your tablet. Free for the first year.
Let's celebrate the wines from our fourth annual Okanagan Life Best of BC Wine Awards, this year held at the Delta Hotels Grand Okanagan. Our judging panel was a select group of independent, experienced wine judges from the trade, restaurant and education...
read more
At the bus stop Young Vernon chef serves up the science of eating fresh food It started out as a side thing, but then it just took off, says Kristina Klein, founder of EATology, an unusual bus depot diner in Vernon. It's modern, but funky, with wooden floors instead...
read more