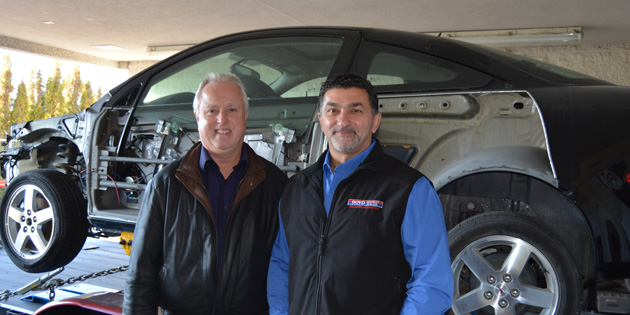 As a potential skills shortage looms that could affect the automotive sector in the Okanagan in the next five years, a local autobody shop owner is helping Okanagan College rev up excitement for careers in collision repair.
Boyd Autobody & Glass recently presented the college with a unique demonstration piece: a mobile collision repair demonstration vehicle, which can be transported to local high schools.
Boyd owner, Methal Abougoush (pictured above) has been touring the vehicle around Kelowna and presenting to students for the past year. In addition to the demonstration unit, valued at over $15,000, Boyd Autobody & Glass has also made a donation to support a locker space in the new trades building.
"We hope this demonstration vehicle and our support of students at the college inspires more people to think about collision repair as a career path," says Abougoush. "It's an exciting time for collision repair and all our programs," says dean of trades and apprenticeship, Steve Moores.
"The donations of equipment, tools, and support for the new trades facilities and for our students are helping us continue to enhance our programs, so we're very grateful."
PROMOTION
Published annually, Okanagan Life Progress presents
Okanagan Valley business stories told by the people behind them.
For advertising details, see Share Your Story of Progress.
---
As seen in
[downloads ids="134199″ columns="1″]