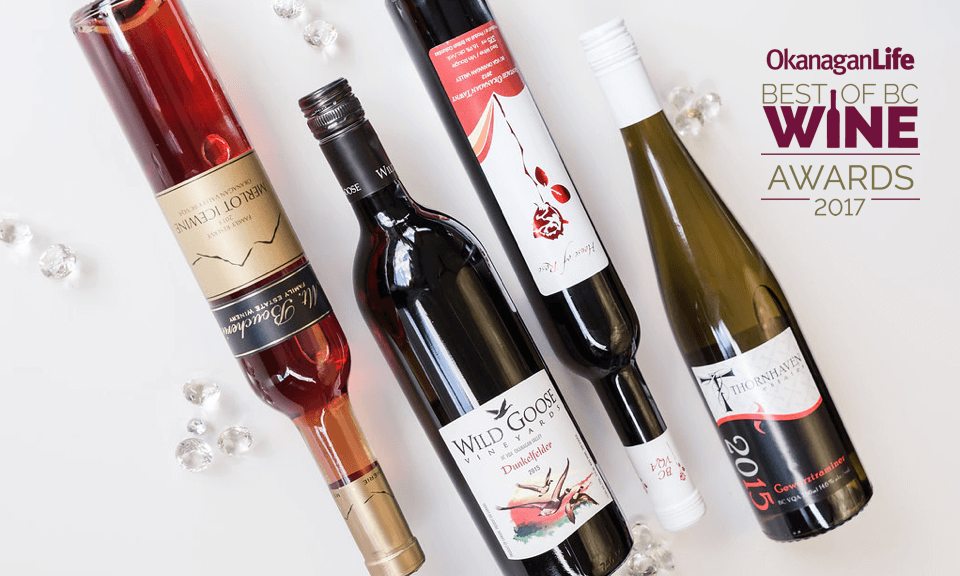 A hallmark wine competition in the heart of Okanagan wine country
Okanagan Life Best of BC Wine Awards will take place in March and highlighted in our April edition of the magazine. Deadline for registration and wine shipments has been extended to March 14, 2019.
You can enter up to 6 wines per winery.
Wine Judges
Our panel of judges include experienced wine sommeliers, syndicated wine columnists and wine critics with wide experience and extensive training from all facets of the wine industry. Our wine panel chair is Helene Scott and floor manager is Tony Bonin.
Wine Categories
Sparkling Wine - traditional or frizzante style
Off-Dry White (01-02 sweetness code)
Riesling
Pinot Gris
Sauvignon Blanc
Gewurztraminer
Viognier
Chardonnay
Other Dry White
Rosé
Pinot Noir
Merlot
Cabernet Sauvignon
Cabernet Franc
Bordeaux style/Meritage Red
Syrah/Shiraz
Other Red Wine
Sweet/Ice Wine (05-10 sw.code)
Fortified Wine
Fruit wine
Cider will also be judged.
Medals
Gold, silver and bronze medals will be awarded for the highest-scoring wines in each category. Awards for Best of Show wines will be given to the red and white wines entered in the competition with the highest overall scores. An award for Best Winery will be given to the winery with the greatest awards.
2019 Rules
All B.C. wineries are eligible.
Only wines made from 100% B.C. grown fruit will be accepted.
The competition categories are subject to change. The competition chair reserves the right to add or remove categories as required (i.e., larger or smaller than anticipated submission quantities).
Wines have been divided into two price categories: under $25 (consumer) and $25 and over (premium/prestige). The competition chairman reserves the right to combine price or other suitable categories if the number of entries in certain categories is insufficient.
Entries are limited to six (6) wines per producer. The competition chairman reserves the right to arbitrarily eliminate wines submitted that do not follow this requirement.
All products to be eligible must be available at BCLDB stores, LRS stores, VQA stores or at the winery.
As well as online submissions and payments, participating wineries must submit hardcopy forms along with their wines. These forms include the registration forms and a list which details the following information: product name and vintage, producer, grape variety or varieties, category, current retail price, SKU, and BC liquor stores sweetness code (00 to 10) or sugar content. See Detailed Wine Entry
To enter wine in a grape variety or blend category, the grape varieties must be specified on the label or on a product information sheet accompanying the entries.
A $30 entry fee is required for each entry submitted.
Three bottles per brand are to be submitted for each entry.
Awards for Best of Show wines will be given to the red and white wines entered in the competition with the highest overall scores. The competition chair reserves the right to awards Best of Show in an Ice Wine competition. An award for Best Winery will be given to the winery with the greatest award score, with greater weight given for gold medals and the least for bronze.
WINE DELIVERY DEADLINE March 1, 2019 - Late deliveries will not be accepted.
Wine Shipments
Wine Shipments
Wineries must submit three bottles per entry. For wineries closing for the winter season, wine shipments will be accepted from November 1 to 30, 2018.
The wine delivery deadline is March 1. Deliveries can be made weekdays from Monday to Friday, between 10 am and 5 pm. Shipping Address: Okanagan Life Magazine 814 Lawrence Avenue Kelowna, BC V1Y 6L9
Registration
Registration
Please enter up to six of your wines. A $30 registration fee (plus GST) is required for each entry. Once payment is received, you will be requested to complete your wine entry form.
Award Winning BC Wines
The winners of Best of BC Wine Awards will be highlighted in the April 2019 issue of Okanagan Life magazine and showcased in our "Best" directory.
Now in its 30th year of publishing, Okanagan Life has been the premiere magazine bringing wine reviews, culinary news and lifestyle features to thousands of readers across our region. The print magazine is directly mailed to 16,000 businesses and homes, has hundreds of subscribers and is available on the newsstand.
For more information, contact Okanagan Life at 250-861-5399.
Let's celebrate the wines from our fourth annual Okanagan Life Best of BC Wine Awards, this year held at the Delta Hotels Grand Okanagan. Our judging panel was a select group of independent, experienced wine judges from the trade, restaurant and education...
read more
<h2>As seen in</h2> Best of Show Best White Lang Vineyards 2017 Viognier Best Red Perseus Winery 2014 Select Lot Cabernet Franc
read more
When visiting wine country be sure to ask for a map at the winery as most have scouted out a regional trail to their neighbours. See if they have a passport as often prizes can be won with a wine route full of stamps. Associations also host one or two signature...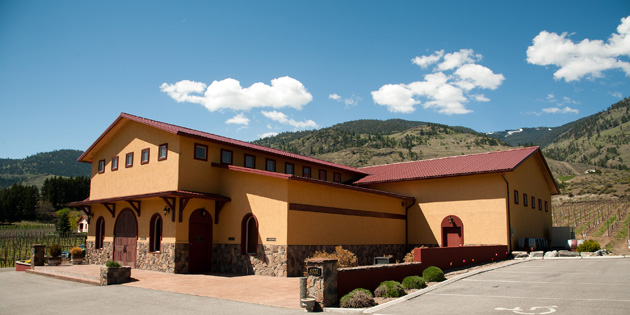 Gold Mile Bench celebrated as Cassini Cellars named best winery Each bottle of wine should communicate something distinct, something unique about the region it comes from, believes proprietor Adrian Cassini. The combination of unique terroir and a dedication to craft...