Gold Mile Bench celebrated as Cassini Cellars named best winery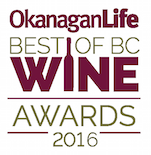 Each bottle of wine should communicate something distinct, something unique about the region it comes from, believes proprietor Adrian Cassini. The combination of unique terroir and a dedication to craft led Cassini Cellars to capture five medals—four of them gold—at the 2016 Okanagan Life Best of BC Wine Awards.
Located half way between Oliver and Osoyoos, Cassini's vineyards are on the Golden Mile Bench, one of the finest grape growing regions in Canada due to the combination of climate and soil on this western slope. Overall, the Oliver-Osoyoos region dominates grape growing in BC, boasting more than 130 wineries and nearly 3,500 acres of winery grapes.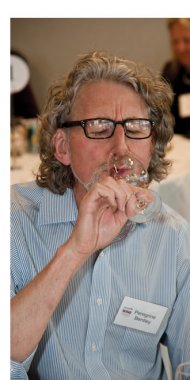 Sourced from a single vineyard, Milestone Vineyard, and selected from the best barrels of Cabernet Sauvignon, the limited bottling of Cassini Cellars 2012 The Aristocrat ($43) brings only 190 cases to market. Its big, rich, intense, yet subtle style earned this Cab a gold medal.
Wine neophytes questioning which wine and how long to cellar, will be happy to know Casinni encourages you to "drink now to 2025." You'll find that 10-year mark often spouted with Okanagan reds, speaking perhaps both to our impatience in the new world and the use of new oak barrels that have already softened the tannins. When you bring it out, have the grill ready for some big juicy steaks or lamb.

A bronze medal went to another outstanding Cassini varietal wine, Cabernet Franc. Lighter than Cabernet Sauvignon, the 2012 Cabernet Franc Collectors Series ($32) offers the finesse and peppery perfume signature of this grape. The dark blue-black grape, known as the "papa grape," was crossed with Sauvignon Blanc to create the variety, Cabernet Sauvignon. The grape has been a principle red variety in the valley since 1999.
"With its versatility and adaptability to our terroir Cabernet Franc has the structure to age gracefully, but also have the fresh black fruit and blackberries to be enjoyed young," says Adrian. "We believe that Cabernet Franc could be a signature red in Canada."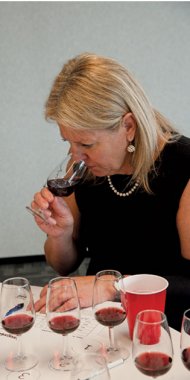 With intense berry and plum aromas, this Cabernet Franc was also the judges' choice for the 2015 Lieutenant Governor's Awards for Excellence in British Columbia wines.
Cassini's red wines captured two more golds in the competition. Showing their skill at blends, the 2012 Quattro at $29 offers a unique full-bodied red, boasting of spice and red berries. Each of the grape varieties Cabernet Sauvignon, Merlot, Syrah and Cabernet Franc were crushed and fermented separately before blending. The wine was aged for 14 months in new and two-year old barrels, 80 per cent French and 20 per cent American. Blending began two months prior to bottling.

Choosing the full palate of Bordeaux grapes, the 2012 Maximum ($36) was also golden. Here Cabernet Sauvignon, Merlot, Petit Verdot and Cabernet Franc combine to create a full-bodied wine with a long lingering finish with subtle tannins. Released for sale last November, only 710 cases were produced. Locals should stop by the winery before the summer tourist season to avoid disappointment.
Like in Bordeaux, Cabernet dominates the blend. Located in the southwest of France and its largest grape growing region, Bordeaux has been producing wine since the 1st century. For North American oenophiles, this powerful blend of Bordeaux-style grapes is called Meritage, thanks in part to the efforts of Canadian wine industry pioneer Harry McWatters who spurred a group of American vintners to create the Meritage Association in 1988. Summerland's Sumac Ridge was the first Canadian winery to sign on to the Meritage protocol. Argentina, Australia, Israel and Mexico are also members.
Meritage combines "merit," reflecting the quality of the grapes, with "heritage," which recognizes the centuries-old tradition of blending. To be called a Meritage, a red wine must be a blend of at least two Bordeaux varieties: Cabernet Franc, Cabernet Sauvignon, Carménère, Gros Verdot, Malbec, Merlot, Petit Verdot and St. Macaire.

We turn to white wine for Cassini's fourth gold medal, awarded to the 2013 Reserve Chardonnay ($25) harvested from vines that are 22 years old. This vintage offers tropical fruit, apple and peach notes, layered with vanilla. The juice is fermented in stainless steel tanks then aged in new French and American barrels for 10 months. Six different types of barrels were used for this Chardonnay. A spectacular food wine, it pairs well with seafood, chicken, strong and mild cheese and all thing rich and buttery, such as pork or pasta in a creamy sauce. Perhaps try squash ravioli or even eggs benedict.
Cassini Cellars opened in 2007 and boasts a grand tasting room with a 33-foot bar. Find then off Highway 97 on the Golden Mile or online at www.cassini.ca.
As seen in: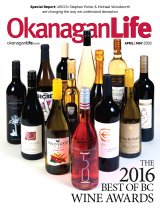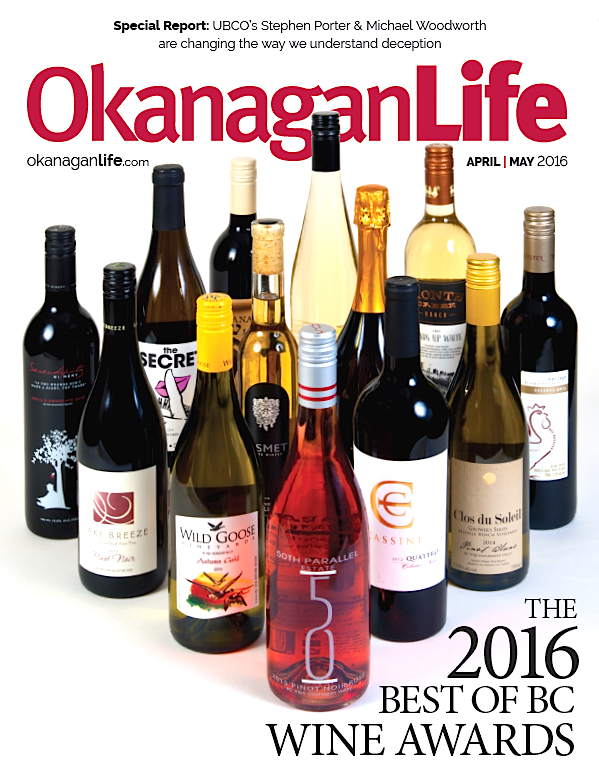 Our April-May issue celebrates the 2016 Okanagan Life Best of BC Wine Awards