Honouring Canada's 150th anniversary, esteemed choreographers, musicians, and dancers pay homage to our country's rich history, diverse culture, and striking landscape
Ballet Kelowna and the Okanagan Symphony Orchestra (OSO) join forces to close their 2016/17 seasons with Canadiana Suite: A Sesquicentennial Celebration – a special tribute performance in honour of Canada's 150th anniversary, May 4 and 5 at the Kelowna Community Theatre, and May 6 at the Vernon & District Performing Arts Centre.
The OSO brings the magic of live music celebrating Canadian music icons including R. Murray Schafer, Gordon Lightfoot, Marjan Mozetich, and Oscar Peterson with a commissioned arrangement by Lance Anderson.
Ballet Kelowna will further ignite the stage with four world premieres reflecting the striking beauty, rich history, and cultural diversity of our country from celebrated choreographers Gioconda Barbuto, Donald Sales, Matjash Mrozewski and Simone Orlando.
"Ballet Kelowna and the Okanagan Symphony Orchestra are proud to present this monumental performance," says Simone Orlando, Ballet Kelowna's Artistic Director and CEO. "More than 60 distinguished Canadian artists including local jazz ensemble The Neville Bowman Trio, and renowned blues artist Shakura S'Aida will unite in celebration of our country's wealth of talent and multicultural character."
Canadiana Suite: A Sesquicentennial Celebration will feature themes of Canada's landscape with a tip of the hat to our railroads. This exhilarating mixed program of music and dance will give audiences the opportunity to embark on a magnificent adventure from ocean to ocean.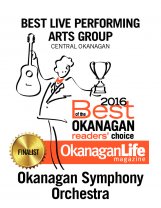 "We are excited to share the stage with Ballet Kelowna for this performance that celebrates some of Canada's great musical icons," says Rosemary Thomson, the OSO's Music Director. "This uplifting artistic tribute to Canada's rich cultural heritage and vast landscape will inspire us all, making us even more proud to be Canadian."
The OSO will open the program with a performance of Train by revered Canadian composer R. Murray Schafer. This dramatic work will take audiences on a soundscape trip from Vancouver to Montreal, highlighting Canada's rugged and beautiful terrain.
Audiences will then be swept back in time to the construction of the Canadian Pacific Railway, with the world premiere of acclaimed choreographer Gioconda Barbuto's latest work. Barbuto's stunning display will be performed to Gordon Lightfoot's epic Canadian Railroad Trilogy, sung by Neville Bowman and arranged for orchestra by Lee Holdridge. This folksong was originally commissioned by the CBC in 1967 to mark Canada's centennial year, and has been a classic ever since its debut.
The world premiere of Elephant In A Room, choreographed by award-winning artist Donald Sales, will be danced to a medley of spirituals associated with the 'Underground Railroad' and transcribed for orchestra by Rosemary Thomson. Sales' choreography will reveal the strength and courageous spirit of those who risked everything to escape slavery and seek refuge in Canada.
Renowned Canadian choreographer Matjash Mrozewski's dazzling world premiere is set to Postcards from the Sky. The music evokes an immense spaciousness, and is composed by Marjan Mozetich, one of the most broadcast classical composers in Canada.
The program will culminate with the world premiere of a work co-created by former Ballet BC Principal Dancers Simone Orlando and Donald Sales, set to Canadiana Suite by Canadian jazz legend Oscar Peterson. The OSO has commissioned Peterson's friend and colleague Lance Anderson to write a signature arrangement of Canadiana Suite for jazz trio and orchestra. This work is a collection of movements that musically illustrate eight different regions in Canada, taking listeners on a voyage from the Maritimes to BC.
To conclude this splendid evening, audiences will be treated to Oscar Peterson's historic Hymn to Freedom, an iconic work that celebrates freedom for all Canadians.
Founded in 2002, Ballet Kelowna performs annually for more than 10,000 audience members in Kelowna and on tour, and provides unique dance training opportunities and outreach programs. Its Artistic Director and CEO, Simone Orlando, is an award-winning choreographer and former dancer with Ballet BC and The National Ballet of Canada.
The Okanagan Symphony Orchestra have been entertaining residents of the valley and visitors from around the globe since 1960.  Now under the direction of Music Director Rosemary Thomson  they perform annually for 18,000 audience members and brings the magic of live orchestral music to all ages throughout the Okanagan Valley.
Kelowna tickets at kelownatickets.com, Orchard Park Shopping Centre or call 1-888-974-9170. Vernon tickets at ticketseller.ca, 3800 33rd Street or call 250-549-7469.