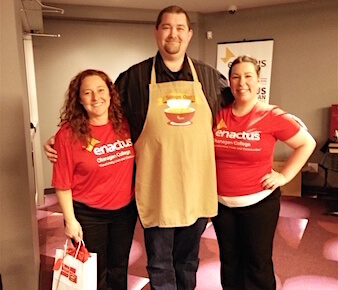 Some of the Okanagan Valley's top chefs will be putting their best ladle forward this month at the inaugural Soup's On events – public soup tastings held in Kelowna and Vernon and presented by Enactus Okanagan College.
Soup's On has run successfully for the past two years in Salmon Arm, which prompted OC students to serve up the initiative in other communities.
"What started out as a simple idea at an Enactus meeting really came to life and was embraced by the community in Salmon Arm," says Soup's On project coordinator and Enactus Okanagan College member Alexandra Jacques. "I am so honoured and thrilled to have two more communities in the Okanagan jump on board."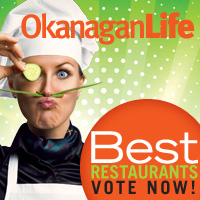 The first event is taking place at 6:30 p.m. on April 27 at Okanagan Spirits' Vernon location, presented by Prospera Credit Union. Tickets are $25 each and available at participating restaurants Eatology, Kaals Naan Stop, Kal Sports Bar, Intermezzo, and Sir Winston's Pub. Proceeds will benefit the Upper Room Mission and Okanagan College students.
The Kelowna event is happening two days later on April 29 at 5 p.m. in the Atrium of the Centre for Learning at Okanagan College. Attendees will have a chance to sample culinary creations by The Curious Cafe, Basil and Mint, FSH, La Cucina, Westcoast Grill, Waterfront Restaurant and Wine Bar, Bonfire Restaurant, Bouchon's Bistro, Sturgeon Hall, Little Hobo Soup and Sandwich, Train Station Pub, Whiskey-Jacks Pub, Central Public House, Xchange Kelowna and Bliss Bakery and Bistro. Hot and cold beverages will also be served at the event, provided by Pulp Fiction Coffee house and Big Surf Brewery.
Tickets for the Kelowna event are $20 and available online. Visit www.okanagan.bc.ca/soupson for more information. Proceeds from the Kelowna event will benefit the Central Okanagan Food Bank and will also aid Okanagan College students.
Foodies take note: attendees will once again be invited to sharpen their pencils and don their judge's hat. Like previous Soup's On events in Salmon Arm, both the Kelowna and Vernon events will follow a people's choice format.
"Throughout the event, attendees have the opportunity to score each soup and vote for their favourite," says Jacques. "At the end of the night, the chef whose soup earned the most votes will take home the Soup's On trophy."
Enactus Okanagan College is a student run non-profit organization. Through events like Soup's On, Enactus OC students raise funds to support their entrepreneurial and philanthropic programs in the community. Examples include Silver Surfers, a program that helps seniors boost their comfort level with technology in order to stay connected with loved ones, and CanSave, a program that provides basic financial literacy to elementary school students.

Our June issue features the Okanagan Life's Best Restaurants Awards – Kelowna - Vernon - Penticton -Kamloops and the South Okanagan.