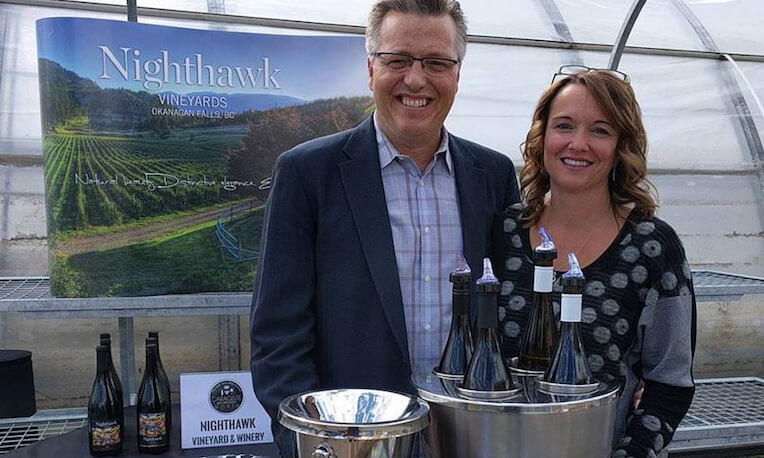 New leadership for Okanagan Wine Festivals Society
The Okanagan Wine Festivals Society has a new board of directors for 2017. Newly appointed at the Society's annual general meeting were:
Daniel Bibby - Nighthawk Vineyards
Lindsay Kelm - Quails' Gate Winery
Melody Schneider - Sandhill Wines
Raquel Merriam - Travel Penticton
Terry Meyer Stone - Tinhorn Creek Vineyards and
Jonathan Rouse - Associate Dean of Wine, Food and Tourism with the Okanagan School of Business at Okanagan College.
The board represents a valley wide cross-section of the Okanagan's wine, hospitality and tourism fields.
The Okanagan Wine Festivals Society operates and markets four annual Wine Festivals in Winter, Spring, Summer and Fall and two judging competitions, with the goal to increase sales for wineries and tourism partners and to generate a lasting wine experience for both tourism and retail.
"I am happy to continue to be a part of this professional organization," said Board Chair, Bruce Hibbard, with Hester Creek Estate Winery. "The Society has contributed so much to the success of the B.C. Wine industry, and it's exciting to be a part of this flourishing wine tourism sector."
The Festivals were recently honoured in the 2016 Best of the Okanagan awards, voted by the readers of Okanagan Life Magazine. Awards for Best Tourist Attraction/Event were presented in both the Central Okanagan and the South Okanagan.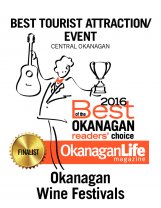 Returning Society board members include: Chair President Bruce Hibbard - Hester Creek Winery, Signature Events Co Chair Carolyn Nixon - Nixon Hospitality Group, Finance Chair Jamie Moore - Hooded Merganser, Membership Chair U. Andy Gebert - St. Hubertus & Oak Bay Estate Winery, Judging Chair Luke Whittall - Clos du Soleil, Annika Betts - Monte Creek Ranch Winery and ex officio Board members Angela Brown representing Valley First, and Geoff Barlow representing ContainerWorld.
For more information visit www.thewinefestivals.com
The Okanagan Wine Festivals Society and Sun Peaks Resort will host the Winter Okanagan Wine Festival this coming January. Now in its 21st year, the festival will run from January 11 to 20, 2019.. This celebration of fine wine and local cuisine is complemented by one...
read more
Let's celebrate the wines from our fourth annual Okanagan Life Best of BC Wine Awards, this year held at the Delta Hotels Grand Okanagan. Our judging panel was a select group of independent, experienced wine judges from the trade, restaurant and education...
read more