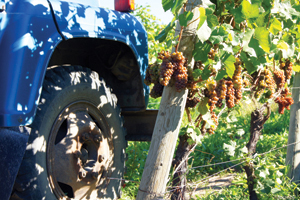 Kelowna features an array of intriguing wineries in three distinct areas—the west-facing lakeshore and slopes of Okanagan Lake; East Kelowna Bench, which straddles Mission Creek in the agricultural heartland of Kelowna; and downtown Kelowna where the focus is on making fine wine...from grapes grown elsewhere in the Valley.
As the birthplace of Okanagan winemaking, Kelowna boasts a rich historical perspective to complement the great wines and winery visits. Father Charles Pandosy, an Oblate priest from France who ventured west to Washington State then north along the Okanagan Fur Brigade Trail in 1859, is credited with planting the region's first grapes. Attracted by the broad stretch of tillable land about mid-point along Okanagan Lake, Pandosy established a mission near Mission Creek, the first non-native, non-fur trading settlement in the BC Interior, and sent for vine cuttings from Oregon.
Fast forward to 1925 when Charles Casorso, a son of Giovanni Casorso who arrived from Italy in 1883 and worked as an agricultural specialist for the missionaries, planted a vineyard of the labrusca persuasion on a 35-acre property in Rutland. In 1930, his two brothers, Pete and Louis, first planted the 45-acre vineyard on Casorso Road that now supplies the family–owned Sperling Vineyards winery with Marechal Foch, Riesling and several other vinifera varieties. As the single largest investor in the original group that included Guiseppe Ghezzi, Pasquale (Cap) Capozzi and W.A.C. Bennett,  the Casorso clan, led by Giovanni's wife, Rosa, played a pivotal role in launching Calona Vineyards (BC's oldest continually operating winery) in 1931. Now owned by Andrew Peller Ltd., Calona Vineyards occupies a sprawling, 1950s-era complex, with newer Peller Estate Winery and Sandhill Wines, on Richter Street in downtown Kelowna.
As far back as 1929, the Rittich brothers imported vinifera vines, which they planted on land that now overlooks Kelowna International Airport, near Ancient  Hill Winery. Reporting the results in BC's first wine book, European grape growing in cooler districts where winter protection is necessary (1934), they found that the Okanagan Valley is perfectly suitable for growing vinifera vines as long as growers selected suitable, early-ripening varieties and developed training practices for high quality wine.~Michael Botner
Download a PDF of the story and wine reviews.