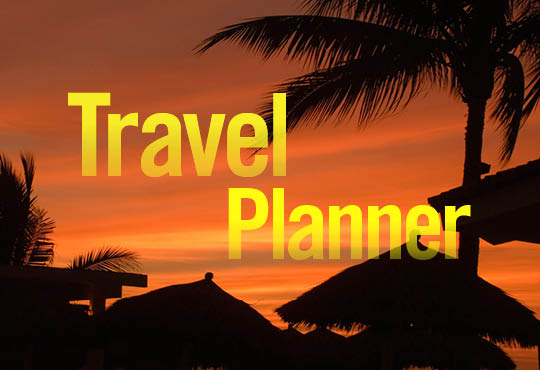 Winter clouds gather on the horizon and we start thinking snowbird thoughts; it's a reflex. This year the soaring loonie is making those southern destinations look more attractive than ever. But I've also found some cool options that may tempt you to spread your wings in a new direction. And while you're in planning mode, remember that now's the time to book if you've got a mind to walk among Amsterdam's sea of tulips in April or glide among the castles, vineyards and cityscapes of Europe next summer.
Escaping the Valley (just for a little while) gets easier every year with constantly improving air service through Kelowna International Airport—our own YLW. It doesn't get better than direct, non-stop flights. WestJet offers seasonal fall/winter/spring non-stops to Los Angeles, Las Vegas and Phoenix in the US, and Los Cabos, Puerto Vallarta and Cancun in Mexico, designed for independent travel or to coordinate with WestJet Vacations. For all-inclusive fans, Transat Holidays and Sunwing Tours schedule non-stop departures from mid-November to the end of April for package vacations in Los Cabos, Puerto Vallarta and Cancun.
Much of the rest of the world is only a single, well-timed connection away. Alaska Airlines jets you to Hawaii through Seattle. With codesharing partners like Lufthansa, Air Canada puts Europe in easy reach via Calgary and Vancouver. Beginning on December 18 United Airlines starts flights between Los Angeles and Kelowna, and between January 6 and April 6 United has added an extra Saturday flight specifically timed to meet connections in LAX for Australia, New Zealand and Latin America.
Getting home is getting easier as well. Significant upgrades to the YLW terminal now make returning from your cross-border break less of a downer. The expansive new International Arrivals area not only looks beautiful, as it represents the people and places of the Okanagan Valley, but it works beautifully, too. No more tussling to retrieve your bags then wrestle them through crowded customs line-ups. YLW is all grown up with the same systems as major air hubs. Although there's no getting away from customs queues, you now work through passport control before collecting your bags, with lots more space to maneuver.
Suntime Spotlight ~ Puerto Vallarta
I've joined the Puerto Vallarta fan club pretty late. I know this former Mexican fishing village with the romantic Liz Taylor-Richard Burton connection has long been a favourite of my Okanagan neighbours, but I didn't get the attraction. Labouring under the belief that PV is just another beach lined with high-rise hotels, I wasn't interested. My idea of purgatory is a full week stuck in a beach resort. Call me crazy (and many of you will), but although I like a poolside Margarita as much as the next winter-weary Canadian, I can only down so much tequila and after I've ploughed through my second trashy e-novel, I just have to get up and do something—preferably involving a new experience and an excuse to haul out my long lens.
So I was less than enthusiastic about PV as the location for a conference I recently attended. Boy, how wrong could I be? I admit to considerable pleasure in walking up to the lobby bar for a hibiscus martini any time I liked, but the prices at my all-inclusive were so reasonable that I didn't feel chained to on-site food choices and when I ventured into the broader PV dining scene, what a shock. Like the Okanagan, the PV lifestyle has attracted outstanding chefs from around the world. I had some of the best meals of my life at  Kaiser Maximilian and Café des Artistes. Both are located in the historic Old Town, where I found unexpectedly fine colonial architecture and whimsical sculpture lining the waterfront Malecon. The riverside market yielded some cute gifts for my grandkids, but I was just as interested in the iguanas sunning in the trees.
I got another surprise when I realized that I could make a day trip to the mountains (blissfully cooler than the coast in hyper-humid October) to take in more history at San Sebastián, a former silver mining town and UNESCO site where I got some lessons in Mexican cuisine from a guy cooking chicharrón in the street and a woman pressing fresh tortillas. We sipped home brew: rich, dark coffee at a tiny organic plantation and, at a roadside family distillery, raicilla, the local agave-based brew I prefer to tequila.
One sweltering afternoon I escaped the meetings for a horseback ride through the forest into the foothills near Hacienda Doña Engracia, where the highlight was a blissful cool-down swimming the horses in the river. Who needs a pool?
And besides, I did get in some beach time. At dusk I joined a bouncing-off-the-walls gaggle of school kids to help send over 200 baby Olive Ridley turtles flippering across the sand to their destiny. I can't tell you how I bonded with my wee turtle, pliable in my hand as its shell hadn't yet hardened and wriggling like mad. Together we all stood behind a literal line in the sand (to avoid stepping on any of our charges) and cheered our tiny turtles in their race to the sea. Mine took a scary sideways detour, but it got back on track and there were tears when it finally disappeared into the froth of a gentle wave. It was a little hard to hear the biologist's talk over the excited chatter, but I didn't mind, because the kids' enthusiasm is the best hope for these and other endangered creatures.
I was so impressed with the sense of eco-stewardship from the municipality and beachfront hotels that I shouldn't have been surprised by another discovery not five minutes from my swim-up bar.
Bordering the busy main thoroughfare in the heart of the hotel zone is the Estero El Salado sanctuary. While research in this mangrove ecosystem has been ongoing for 12 years, El Salado only opened to the public in April 2012. With an expert guide we boarded a spanking new boat to negotiate the narrow mangrove-lined channel that threads through the reserve. My long lens got a real workout and I came away with keeper shots of at least 11 different bird species, an iguana and myriad little red crabs. I got just a little closer than expected to a couple of lazy boas and our guide searched hard until we hit the jackpot with two crocodile sightings. I couldn't have been happier—and not an umbrella drink in sight.
Cool Plans ~ Amsterdam
Book now if your cool 2013 travel plans include Europe, especially if you're looking at popular river cruises or events like Holland's tulip festival where ground zero is Keukenhof with its seven million blooms, open from March 31 to May 30.
Amsterdam is a terrific base for both and easily accessible with direct flights from Vancouver. Apart from dodging the multitude of bicycles, this is a pedestrian-friendly city where everything in the historic centre is walkable or just a short tram ride away.
To take full advantage, pick up an "I amsterdam" smart card for canal rides and free public transit plus admission or discounts on museums, attractions, food and drink.
I used my card to stand in the room of Rembrandt's house where he painted his masterpieces; to behold first hand the surreal luminescence of Van Gogh's iconic sunflowers, hanging in the museum that bears his name; to lose myself in the mystical light of a Vermeer at the legendary Rijksmuseum (main building reopening in April 2013 after massive renovations); and to feel humbled by the heroism memorialized at the Dutch Resistance Museum.
But the best of Amsterdam is free. I love just walking, taking in the city-wide gallery of architectural design (can't get enough of those Art Nouveau details), mingling with the crowds amid the fragrant exuberance of the Flower Market (cannabis seeds optional), window shopping the antique stores (just looking), and people watching from a sidewalk table with a mid-morning cappuccino or a brew from a local pub. Now, that's Amsterdam. ~Laurie Carter