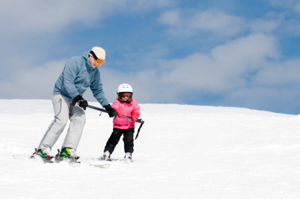 If the term "steep and deep" better describes the pile of bills on your kitchen table than the powder on Okanagan ski slopes where you'd like to be carving some turns; if you feel snowed under by a blizzard of family duties; if the word "flakes" conjures up an image of Ivory Snow laundry detergent instead of the white stuff from the sky; if the only powder you've seen lately is for baby's diaper rash; if the phrase "groomed run" refers to your mad dash for a quick, not so relaxing shower while the kids are napping—you may be one of countless dedicated parents of young children who has long since forgotten the joy of downhill skiing.
You're also most likely female. Don't get me wrong, there are lots of wonderful stay at home dads in two-parent families, but even if both parents work, it's most often mom who bears the major child care responsibilities. Being a parent can be tough and downhill skiing is expensive, often an elusive luxury. Frequently there's only enough cash in the budget for one season's pass. From my experience, it usually goes to dad, while mom stays at home with the kids. You don't want to know how many times I've heard older moms on the chairlift bemoan the fact they can't keep up with their preteen youngsters on the slopes any more because they couldn't afford to ski for 10 years when the kids were learning.
That's why for many years Whistler Blackcomb has offered a dual pass for parents of children under the age of five. Here's how it works. Two parents share a season's pass. Often one parent skis for half a day while the other hangs around home, the lodge or hotel room with the tots. When they all meet for lunch, the parents exchange the pass and the kids. Both partners get a chance to rip it up on the slopes for the price of one season's pass with or without their children. Only one parent can use the pass at a time. A civilized scenario.
Inspired by statistics from the Canadian Ski Council which tell of a decline in pass purchases by families with preschool aged children, Kicking Horse Mountain Resort near Golden has offered a parent pass for the past three seasons. "Younger couples have kids and fall out of the sport until their kids are Grade 5 age," says Kicking Horse media relations representative Jordan Petrovics. "But there is a 90 per cent retention rate for those who take us up on the offer."
Revelstoke is getting on board the dual parent pass for the 2011/12 season. Why now? "There has been a substantial baby boom in Revelstoke in the past year. More than 100 babies have been born," says Ashley Tait, director of sales and marketing. "We have a large number of young families and we wanted to provide additional options to keep them skiing and to continue introducing kids to skiing and boarding."
I believe in full disclosure. I live at Silver Star and love it. As they say in the promos, it's "my mountain." I have neither children nor grandchildren, but I am lucky to know a growing gaggle of tots, children of some of my husband's former students, who call me Gran Patti. I would like those kids and others to have the chance to grow up skiing with both their parents. And yes, I am female.
So what's up with Okanagan resorts? While they offer lots of perks for locals, like reasonably priced tot passes, Silver Star's five buck Friday and Saturday nights, and $15 Sundays on Summit, Alpine Meadows and Silver Queen chairs, this is one they've missed. "It's not on our radar right now," says Silver Star general manager Michael Sherwood, "but I'll certainly do some research on it." Here's a chance for Okanagan ski resorts to score big points with young families and keep more kids fit. Let's hope they take it. – Patti Shales Lefkos