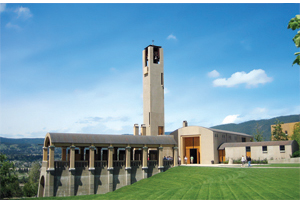 Clustered around Mount Boucherie and scattered south past Peachland, Westside wineries showcase a style and taste all their own.
Stretching from the W.R. Bennett Bridge south to Summerland, about 25 kilometres along Highway 97, the Westside wine region encompasses two neighbouring municipalities, West Kelowna and Peachland. The heart of grape growing and winemaking activity is Mount Boucherie, a long extinct volcano and a prominent feature in West Kelowna between the highway and Okanagan Lake. Despite urban incursions, extensive vine plantings remain on the east, lake-facing slopes, thanks to both favourable terroir and British Columbia's Agricultural Land Reserve.
Mineral deposits from volcanic activity form the chief component of the soil in this area, especially on higher elevations above Boucherie Road. Below, deposits of silt and clay left by glaciation contribute to more fertile soils. Along with reflected sunlight and heat stored in the lake, cool climate conditions in this section of the Central Okanagan contribute to an ideal combination for growing aromatic white Germanic varieties as well as Chardonnay, Pinot Noir and French hybrids, especially Maréchal Foch.
More widely dispersed and fewer in number, there are also vineyards and wineries in the Westbank town centre and Peachland areas, some further inland and more elevated than others.
Westside wineries feature quality, honesty and diversity in the wines they produce. The style of wineries ranges from unique, farm gate operations to elaborate tourist destinations and includes medium-sized operations of high repute. The area boasts excellent lake and mountain scenery, natural spaces, orchards and vineyards, all the amenities of an urban area, plus charming Beach Avenue in Peachland. Unlike less densely populated parts of the Valley, wine shops in this area are likely to be open year round.
Don't miss hidden gems like Working Horse Winery in Peachland. High on Trepanier Bench with panoramic views and deep sandy soils, the historic farm features a pleasant inn and gourmet dining as well as impressive, limited edition wines from organic grapes. About halfway to Summerland, sometimes overlooked CedarCreek-owned Greata Ranch serves up appetizing, affordably-priced vintages.– Michael Botner
Photo: Mission Hill Family Estate Winery by Mishell Raedeke