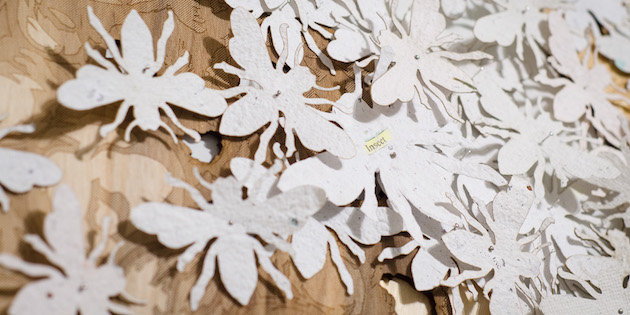 International Pollinator Week has come and gone but it has left something behind at the Kelowna Art Gallery – over 10,000 bees have taken over the walls of the Gallery's front project space. These bees have been constructed from hand-made paper and now form an exhibition entitled For All is For Yourself.
During the past winter, over 300 sheets of seed-embedded paper were created at workshops throughout the Okanagan with the help of hundreds of local volunteers, both individuals as well as groups and organizations. The paper was sent to exhibition partner chART Collective in Vancouver, who laser-cut it to make 5,000 of the bees on view – the other half had been created in 2015 for the exhibition's installation at the Richmond Art Gallery.
The exhibition is organized by a public art initiative called Border Free Bees headed by Dr. Cameron Cartiere, Associate Professor at Emily Carr University of Art and Design, and Dr. Nancy Holmes, Associate Professor in the Faculty of Creative and Critical Studies at UBCO. It is intended to raise awareness of the plight of wild pollinators and to empower communities to actively engage in solutions for habitat loss and create urban spaces as viable pollinator pastures.
A number of public talks, workshops, and presentations at the Kelowna Art Gallery have been organized in conjunction with the exhibition:
On Thursday, July 21, at 7 pm, Claudette and Eain Lamont will be giving a free public talk and will share their vast knowledge and experience of over 50 years of beekeeping in the Okanagan.
On Sunday, August 21, from 1 to 4 pm, the Gallery will be hosting a free special Family Sundays entitled Bees Live Here that will lead participants through a variety of hands-on art activities that explore the homes of our bee friends.
On Saturday, October 1, as part of the Canada-wide Culture Days celebrations, the Gallery will host a day-long event entitled Create an Insect Hotel / Wild Bienenhaus. Particpants will help to build a home for pollinators and pest controllers that will be placed permanently at Brent's Grist Mill Heritage site.
On Thursday, October 6, at 7 pm, Mark Winston, author of the Governor General's Award-winning book Bee Time: Lessons From the Hive, will give a talk to conclude the exhibition. Following this, the public are invited to take the paper bees embedded with Gaillardia seed off the walls of the gallery to plant in their own gardens.
For All is For Yourself will be on view through October 6, 2016.
The Kelowna Art Gallery is located at 1315 Water Street in downtown Kelowna. For more information about current exhibitions, public programming or special events, please visit the Kelowna Art Gallery online at www.kelownaartgallery.com or call 250-762-2226.