Belgian national cycling champion Axel Merckx leads an epic ride through the heart of British Columbia's wine country
On Sunday, July 10, British Columbia's South Okanagan will see up to 2,500 cyclists take to the roads for the start of the sixth Prospera Granfondo Axel Merckx Okanagan. The event includes the Cortofondo (55 km), Mediofondo (92 km), Velocefondo (126 km) and Granfondo (160 km) routes.
"We're excited to bring one of North America's top cycling events to Penticton and the South Okanagan for a sixth year," says Merckx. "I can't extend enough thanks to our volunteers, the City of Penticton, and our title sponsor, Prospera, for their amazing support."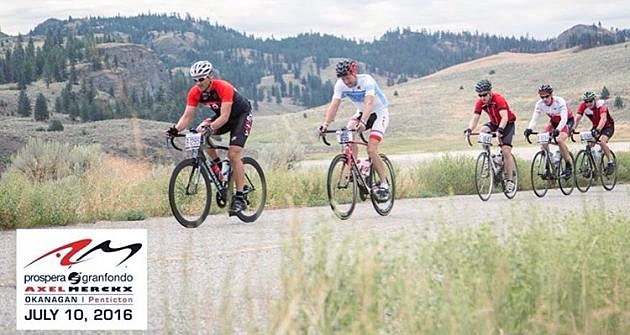 While more than three-quarters of the participants live in British Columbia, this year's cycling event attracts riders from as far away as the United Kingdom, Italy, Germany, Netherlands, Switzerland, Australia, and Bahamas. A record one third of registrants are women, and riders range in age from 14 to 88 years of age.
Cyclists will depart at 7 a.m. on Sunday, July 10 at Penticton's Gyro Park before travelling through the District of Summerland and the towns of Okanagan Falls, Oliver and Kaleden. Along for the ride will be event namesake, and former Belgian national cycling champion, Axel Merckx – who now resides in the Okanagan. Merckx will be joined by three of his Axeon Hagens Berman under-23 pro riders – Logan Owen, Justin Oein, and Greg Daniel. Daniel returns for a second consecutive year, but this time as the USA national road race champion – a title he captured in late May. Former NHL All-Star, Trevor Linden, former Ironman World Champion, Peter Reid, and Canadian Olympic legend, Silken Laumann, round out the list of notable names riding in Sunday's big ride.
Look back on Friday's smashing #PROVEIT performance at #RoadNats, via @PezCycling ? https://t.co/WKTfpHc1FH pic.twitter.com/ABSL5rRhB7

— Axeon Hagens Berman (@axeonhb) July 3, 2016
This year, in addition to the Axel Merckx Youth Development Foundation (www.amydf.org), the event benefits Canuck Place Children's Hospice – B.C.'s recognized pediatric palliative care provider, delivering care to over 600 newborns, children and youth and the families who love them.
Several activities will be centered around Penticton's Gyro Park, including the new Wheels & Reels outdoor yoga and movie night in the park, presented by lululemon on Friday, July 8 (7 p.m. start), and the Kids' Piccolofondo fun bike race on Saturday, July 9 (2 p.m. start).
The Penticton Trade and Convention Centre will host the participants' Package Pick-Up and Granfondo Cycling Expo on Friday, July 8 (1 p.m. to 7 p.m.) and Saturday, July 9 (10 a.m. to 6 p.m.).
A limited number of ride entries are still available on a first-come, first-served basis on-site at Package Pick-Up. More details at http://www.granfondoaxelmerckx.com