Wine can now be bought in grocery stores. In November, longstanding BC VQA wine stores, Discover Wines and the Kelowna Wine Museum Wine Shop announced their support to move into grocery stores with the Overwaitea Food Group in Kelowna. Three wine-in-grocery stores have already opened in the Lower Mainland. The first BC wine sold in a BC grocery store was April 1, 2015 in Surrey's South Point Save-On-Foods.
New wineries are choosing to be "virtual," producing wine under another winery's license. Brands without buildings or land, these winemakers are proving pedigree is not tied to property. In 2014, there were 17 virtual wineries in BC.
Wine tourism in BC is on the rise. From tastings and vineyard tours to on-site restaurants and shops, accommodation, concerts and cooking classes, 275 wineries offer exceptional wine experiences — and the world is taking note. In 2015, the Okanagan Valley was named one of the 10 best wine destinations by Wine Enthusiast magazine, ranked #1 wine region in the world by The Huffington Post and dubbed the 2nd best wine region to visit by USA Today.
Winery-owned acreage continues to increase with growers starting their own wineries and a rising trend of existing wineries expanding and purchasing more land. The number of wineries is at an all-time high at 256.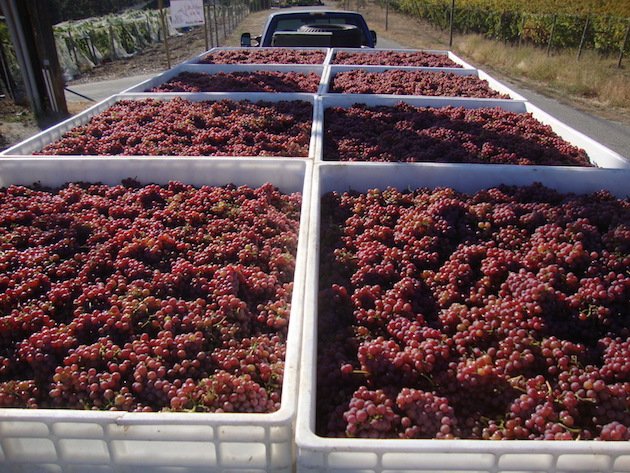 Wine consumption is rising, growing three times faster than globally. Canada's per capita wine consumption is around 15 litres a year.
Harvest is getting earlier. Outstanding weather last summer led to a record-breaking start to the grape harvest, with vintages being picked as early as August 20.
The BC wine industry is aging. In 1990, a small group of pioneering winemakers and grape growers came together to create the British Columbia Vintners Quality Alliance (BC VQA). 2015 marked its 25th year.
Photos: (top) Summerhill winemaker Eric Von Krosigk prepares to disgorge Cipes Brut; (centre) Wild Goose grapes.
[downloads category="bc-wine-awards"]