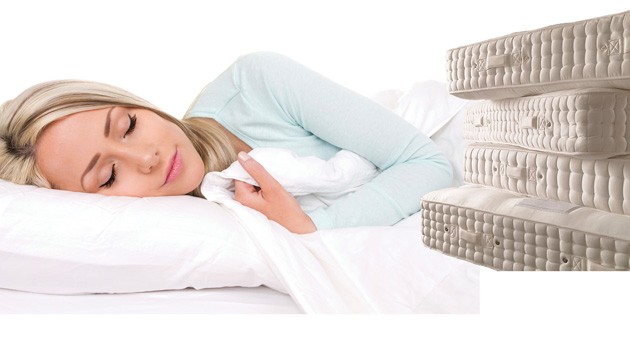 Ahhh…the dreaded body impression! Only Sleepy's have the cure!
So, you just invested in a new sleep set and already in six months to a year you are noticing a large hump up the middle of the mattress with two deep sinkholes on either side of the top where your bodies lay. You call the salesperson that sold it to you and you are told that body impressions are normal, that the mattress is conforming to your body. You are told to rotate your mattress more often or if you have a king size, to make quarter turns and this should minimize the issue. Then you find out that these sags have to be visibly more than 1.5" to 2" deep before you can have anything done about it. You explain that you have to roll uphill to meet your partner and are told again that this is normal?
"Well, I assure you that this issue is very common, but it is not normal!" says Geoff McLeary, Owner of Sleepy's—Bedroom Furniture & Sleep Shop in Kelowna.
Going back 12 years ago and beyond, mattresses did not get body impressions. Most good mattresses performed very well for years and stood the test of time. The mattress of today will last (if you're lucky) an average of 5 to 6 years and most get these dreaded body impressions in a very short period of time. Mattress sets of the past lasted more than 10 to 12 years or longer.
Back when the mattress makers decided to brainwash the North American public into believing that half a mattress was better than a whole one, it wasn't so bad. Most of the factories upgraded the quality of the components in the top of the mattress to give the bed more integrity. Sadly, after a few short years, the larger mattress stores put pressure on the manufacturers to reduce their wholesale costs so they could amp up their profit margins even more. The only way this could be achieved is by using inferior components and/or sourcing lower priced fillers from China?…?even springs systems come from there now. Some of the largest mattress makers are using 1.2 lb. density foam in their high end sleep sets. That's only one step above "camping foam" folks!
Sleepy's owner, Geoff McLeary does not like this! He says, "AO." He has teamed up with the Restonic and Spring Air Mattress factories in Vancouver to resurrect the two sided flippable mattress. These two mattress makers build their beds with integrity, they use all North American components, and they are not in any of the bigger mattress stores. Restonic has won the Women's Choice Award for the most recommended mattress brand for four years in a row. As well as the Consumer's Digest Best Buy Award for the eighth year in a row.
So, for about a 15% to 25% increase in the cost?…?you will receive over 100% additional lifespan on your new double sided flippable mattress. The mattress will perform better, will feel better over a much longer period of time, and will retain it's shape for the long term. "We offer a range of two sided mattresses starting at a $388 queen size."
Sleepy's also specialize in a lesser known superior material used in their mattresses, toppers, and pillows?…?pure latex. Latex is the longest lasting material used in the mattress industry and is derived from the rubber tree. You never have to flip or rotate a quality latex mattress, because these comfortable sleep systems will perform for the long term. Our most popular latex bed offers a 20 year full non prorated warranty and an unheard of ¾" body impression tolerance over that 20 year period of time.
McLeary says "We have had clients come into our store that were dealing with a big mattress store in town and have gone through as many as five mattresses in two years due to premature body impressions/warranty issues and are looking for solutions. They found Sleepy's offered them a solution, a better built and refreshing alternative to the defective designs being offered from other stores."
Sleepy's are also striving to be your destination "green" sleep shop in the Okanagan. "We offer a nice range of green, natural, and organic mattresses and bedding for your better sleep and better health." Sleepy's promise to offer you only the best materials in their mattresses. Nothing made in China! No smoke and mirrors. No toxic memory foam. No gimmicks! Just the straight goods from the owner himself.
You will find Sleepy's-The Mattress Store just behind Costco on Baron Road in Kelowna — or — visit our virtual showroom at www.sleepys.ca to get a feel of who we are.
PROMOTION
Published annually, Okanagan Life Progress presents
Okanagan Valley business stories told by the people behind them.
For advertising details, see Share Your Story of Progress.
As seen in
[downloads ids="134199″]