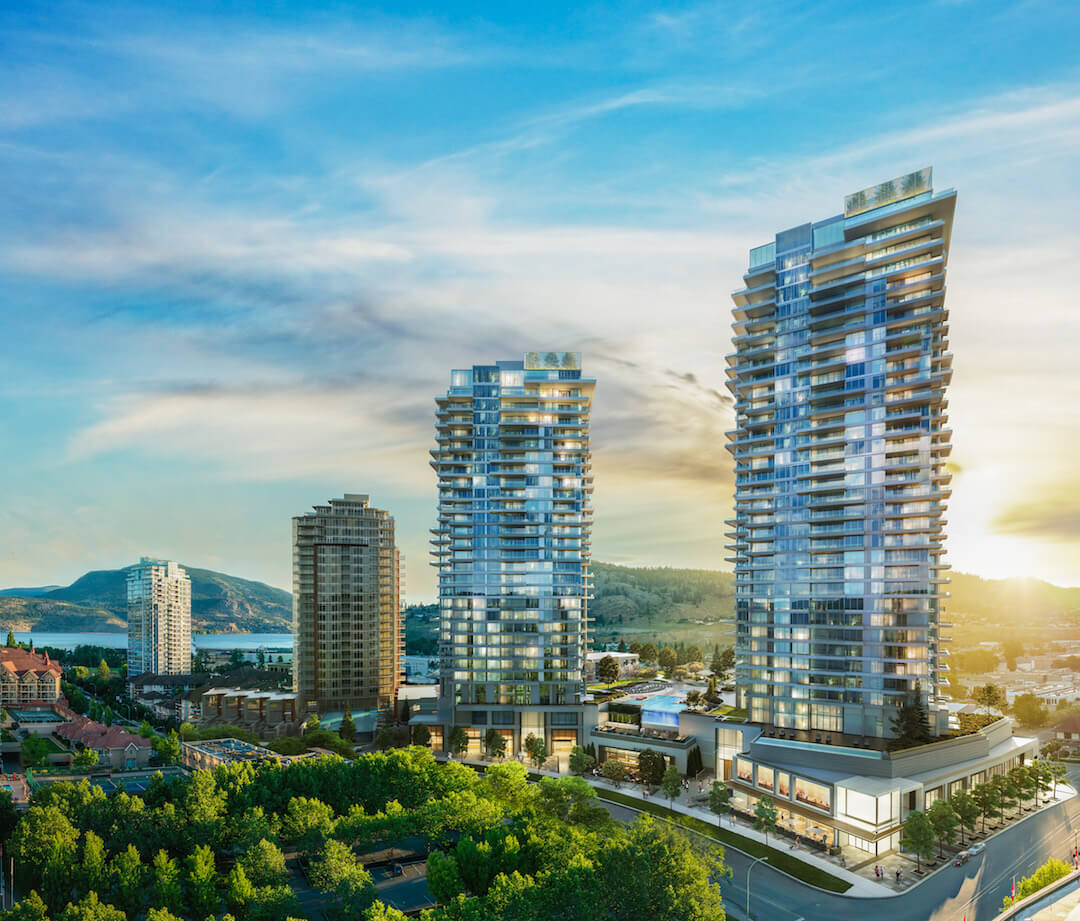 "The landscape of Kelowna will forever change in 2018 as homeowners flock to the new downtown towers," says local realtor and homebuilder A. J. Hazzi, author of The Vantage Report.  "We'll see a vitality on our streets and in the shops and restaurants as the densification of the downtown core increase.
"With so much renewal and re-imagining going on in our city, it is going to be exciting for residents to watch it all take shape and come alive."
Vantage West Realty released today the Winter 2017 edition of Okanagan real estate market micro-study, a semi-annual report which delves deep into market trends for 15 distinct neighbourhoods in a year-over-year study of Central Okanagan home sales.
Overall, inventory of downtown condos increased year over year by 70 per cent, with 346 new units starts. 2017 saw construction of 1151 Sunset Drive tower and SOPA Square in Pandosy resume. Three other tower projects, Ella, Ellis Parc and the south tower of One Water Street, should all break ground in 2018. Each one experienced successful pre-sale campaigns in this past fall.
Prices are keeping steady in the downtown condo market with a slight 1.7 per cent increase. A variety of units from micro-suites to penthouses are on offer and prices range from the mid $200,000s to a high of $2M. The average price is $387,471.
"Townhomes and apartments that fit the price range and lifestyle of boomers and Millennials will be the hot item in the year ahead," says Hazzi.
Overall, Kelowna and area are experiencing premium prices across all housing types. The average single-family house is $735,523. 
| | | | |
| --- | --- | --- | --- |
| Market wide | 2017 | 2016 | Change |
| Single Family | 735,523 | 675,838 | 8.8% |
| Townhouse | 461,742 | 423,163 | 9.1% |
| Condo | 329,522 | 289,713 | 13.7% |
Average home prices top $1 Million in Lakeview Heights and Southeast Kelowna
Leading the market are double-digit home price increases in Glenmore/North Glenmore and Southeast Kelowna/Crawford in Kelowna, and in West Kelowna, Shannon Lake, Lakeview Heights (pictured) and Westbank communities saw similar rapid increases.
Single-family homes prices are up 20 per cent in the neighbourhood of Southeast Kelowna/Crawford and 16 per cent in Glenmore/ North Glenmore. In Southeast Kelowna/Crawford, the average price for a single-family home reached $1.1M, while Glenmore saw prices at $675,546. Premium prices for single-family homes are being seen in Lower Mission ($933,587) and Dilworth ($832,096) and Lake Country ($812,665).
In West Kelowna, Lakeview Heights saw price increases of 24 per cent with the average single-family home selling for $1.03M. Shannon Lake saw increases of 16 per cent with an average of $674,487 and townhomes increase 28 per cent to with an average of $488,260. Single-family homes in Westbank have experienced a 27 per cent rise in the average sales price while apartment-style condo prices rose by 23 per cent over the past 12 months.
"Kelowna is still very much a seller's market," says Hazzi. "We have some of the most desirable real estate in Canada, with a lifestyle that suits the two largest demographics in history: Boomers and Millennials. A well-located real estate holding in the Okanagan will be one of the safest, most lucrative investments over the next couple of decades."
Vantage Report is available from local realtors or online at thevantagereport.com