ELLA
Mission Group has open sales at ELLA, a 20-storey condominium building featuring 116 homes and commercial opportunities at street level. Located on the corner of Ellis Street and Lawrence Avenue in downtown Kelowna, residents will enjoy access to the vibrant downtown core.
Seven different floor plans, plus penthouse suites, range in size from 311 to 2,000 sq. ft. and offer lake views from southwest to northwest, and mountain and city views to the east. liveatella.com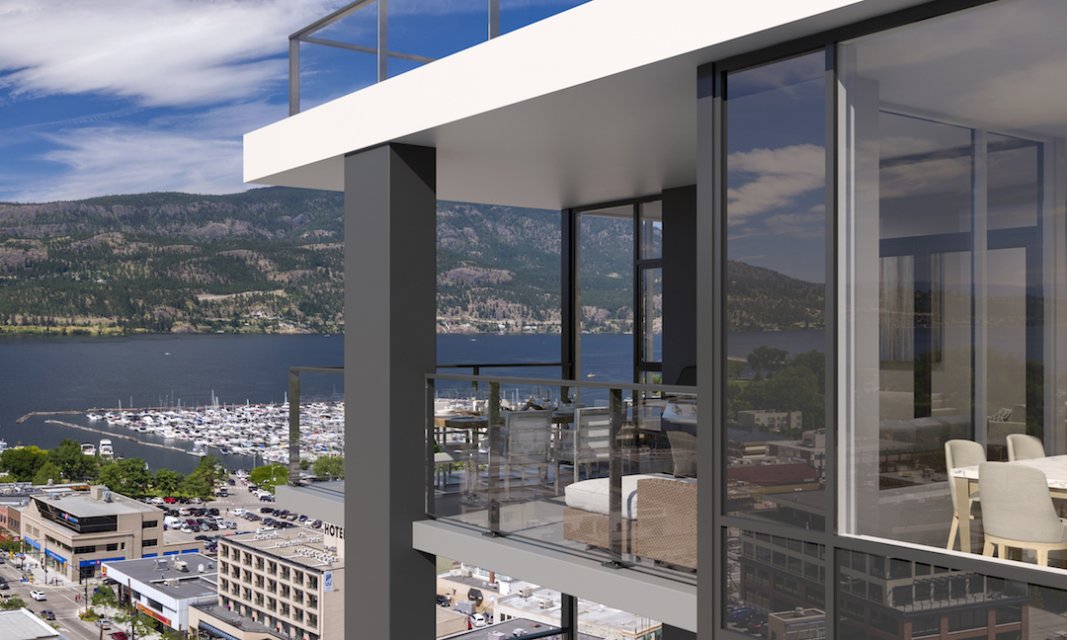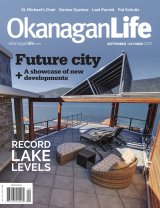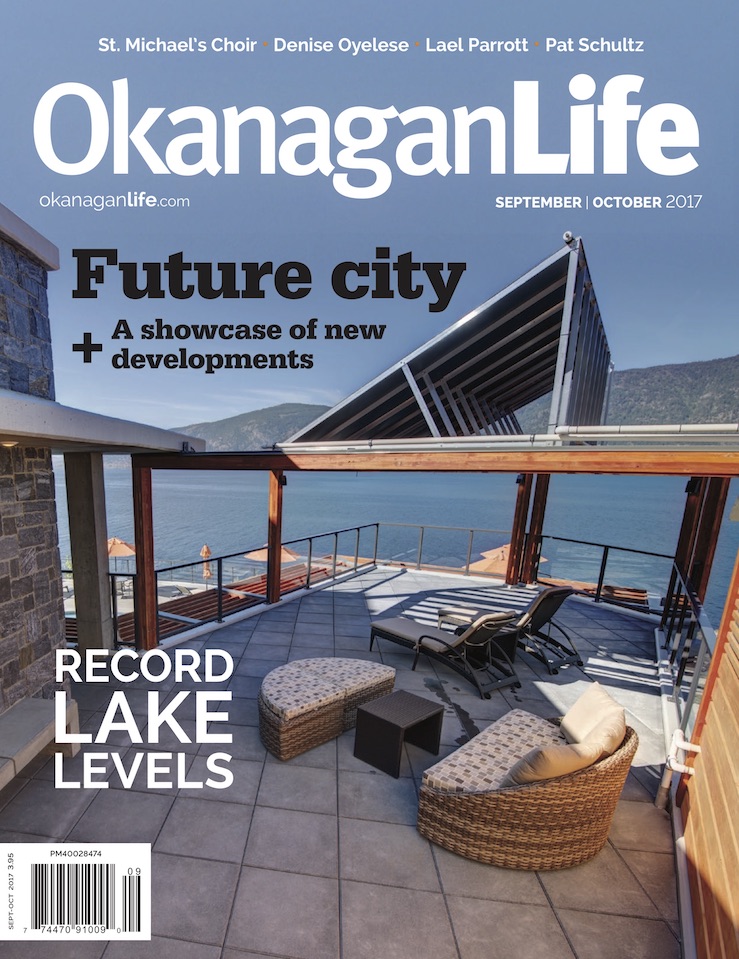 Our September/October 2017 issue includes Okanagan developers' showcase and a feature on the future of cities.
LAKESTONE
Lakestone's club facility sets a new standard for community amenities, with swimming pool, hot tubs, fitness facility and a rooftop terrace looking out to Okanagan Lake, surrounded by semi-detached homes and private homesites. Higher up, the Benchland neighbourhood offers large view lots, all set amongst vast expanses of granite outcroppings and ponderosa pine. lakestoneliving.com
VERT
Vert (French for green) seems the perfect name for the 140 condos and townhomes planned for Mission Springs Drive in the Lower Mission. "There's both an environmental and social connectivity to Vert," says Renee Wasylyk, president of Troika Developments. "People want to lead an active lifestyle and also have the chance to be a part of a community. Vert is built around the idea of surrounding living spaces with green spaces, community gardens, paths, beaches — you name it."   liveatvert.ca

McKINLEY BEACH
Your backyard at McKinley Beach is rich with Okanagan amenities: hiking and biking trails and rock faces for climbing, while just below is a one-kilometre beachfront and marina. It's urban living set against a beautiful rural background. The serene location, just north of Knox Mountain Park, strikes the balance between easy access to city amenities and a natural setting that can be both relaxing and encouraging of healthy, active living. mckinleybeach.ca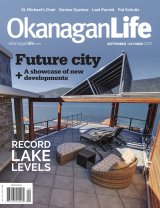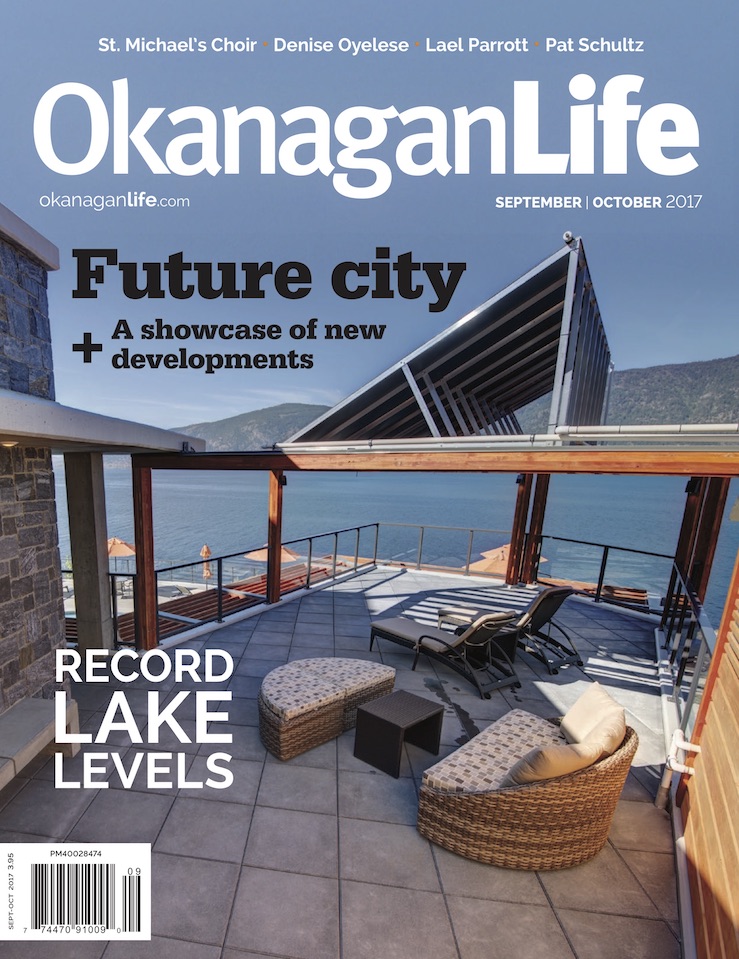 Our September/October 2017 issue includes Okanagan developers' showcase and a feature on the future of cities.
ONE WATER STREET
Skyline is changing with the addition two slim towers at One Water Street on the 10-year-old vacant lot at corner of Sunset Drive. At 36 and 29 storeys (the tallest between Metro Vancouver and Calgary), the two glass and concrete residential towers will sit atop a three- storey podium to allow for an elevated half hectare of landscaped park connecting the two. The green space includes a dog run, outdoor BBQs, a pickleball court, two swimming pools and a 3,000 sq. ft. fitness centre. Below, homeowners can access shops at the commercial outlets along the perimeter of the site. onewaterstreet.ca
TOWER RANCH
Topping the list for a sought-after location is the sweeping scenic vista at Tower Ranch. This community affords buyers the opportunity to custom build the home of their dreams on a lot of their choice. Builder Dilworth Homes also offers move-in-ready "express" homes (left). The seventh phase of the community, Tallgrass Ridge, is bringing more opportunities for lots, with custom or express homes. Watch for the new showhome and presentation centre opening in the neighbourhood at the beginning of November. dilworthhomes.com
KESTREL RIDGE
Located at the southernmost tip of Kelowna and below the Kettle Valley Railway, the new 57 homes at Kestrel Ridge in Upper Mission are situated on only one side of the block to extend privacy, room on the street, and, most importantly, the stunning views. With 14-foot-wide living room windows positioned to bring in light throughout the day and seasons, and kitchen islands that allow the homeowner to face both the view and their guests, the contemporary single-level-living concept homes offer luxury and functionality in 1,600 sq. ft. floor plan. kestrelridge.ca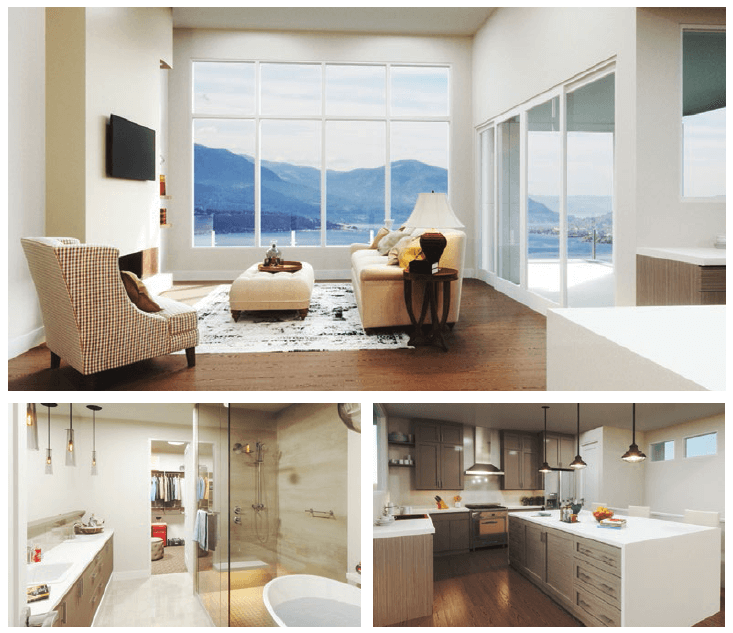 Read more on the future city in our October issue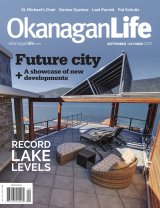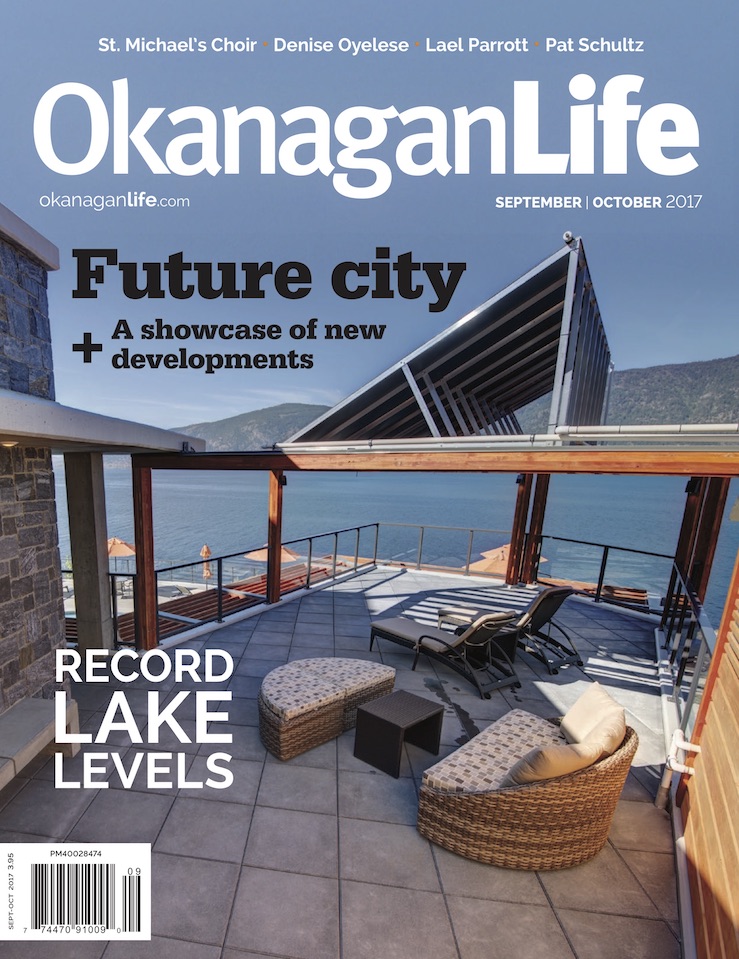 Our September/October 2017 issue includes Okanagan developers' showcase and a feature on the future of cities.