One can't help but get excited when scuba instructor Doug Lundgren starts telling stories of his diving adventures. His eyes light up when he talks about cave diving and exploring sunken wrecks; the time when a six-foot-long octopus playfully curled her tentacles around his body; or when he hand-fed a five-foot-long eel.
While thousands flock to the Okanagan Valley every year to enjoy the wineries, beaches and hiking trails, few realize the wonders that lie beneath the surface of Okanagan Lake. This world comes alive with the help of Lundgren from Diving Dynamics or Freeda Wilson of Serpent Aquatics, operators of Kelowna's two dive shops.
"I  love how peaceful it is," says Doug. "It's just hand signals and the sound of my bubbles."
For those who have never dived, it's hard to explain the appeal. The mere fact that you are breathing underwater is incredible. Add to that scenery like nothing above land and creatures you may only encounter at an aquarium and you have a sport like no other.
The first step in joining this adventurous group is certification with PADI (Professional Association of Diving Instructors.) With a valid PADI certification in hand, a diver can rent gear or an air tank from one of the local shops.
"The great thing about getting your certification in Okanagan Lake is that experienced cold water divers can effortlessly dive anywhere else in the world," says Freeda. "Cold water diving requires excellent navigational skills because the visibility is usually poorer (than warm water) and requires more weight and a heavy wetsuit so you learn better control and buoyancy skills."
During the summer there are several exciting places to dive. Try Fintry where you'll find a sunken Canadian Pacific Railway barge approximately 30 feet down. The barge is 120 feet long and the farthest end dips all the way down to 90 feet. Paul's Tomb is a popular spot for those wanting to see Ogopogo. Go down about 25 feet and there he is in all his concrete glory. This dive site is best accessed by boat since it is a long walk through Knox Mountain Park to get to the beach area. Advanced divers can visit Wilson's Landing to see a milk truck from the 1920s, submerged 100 feet below the surface.
Treasure is also to be found in Okanagan Lake. Diving near the beaches it's not unusual to find sunglasses, cameras or watches. Freeda once surfaced with a pair of men's shorts complete with a cell phone, wallet and car keys. "I don't know if he was skinny dipping but it was a very unusual find." Doug surfaced once to discover the urn he retrieved was someone's ashes. He made sure to replace them exactly where he found them since there were no markings or identification on the urn.
Unfortunately, divers have also found a great deal of garbage. Finding golf balls is very common and thousands of bottles and cans have been carelessly tossed off boats. The volunteer dive team, Project Cool, retrieved 24 tons of garbage from the lake in the 14 years that Doug operated it. Freeda continues this important work on the Westside and organizes several garbage dives throughout the year.
By Micheal Burke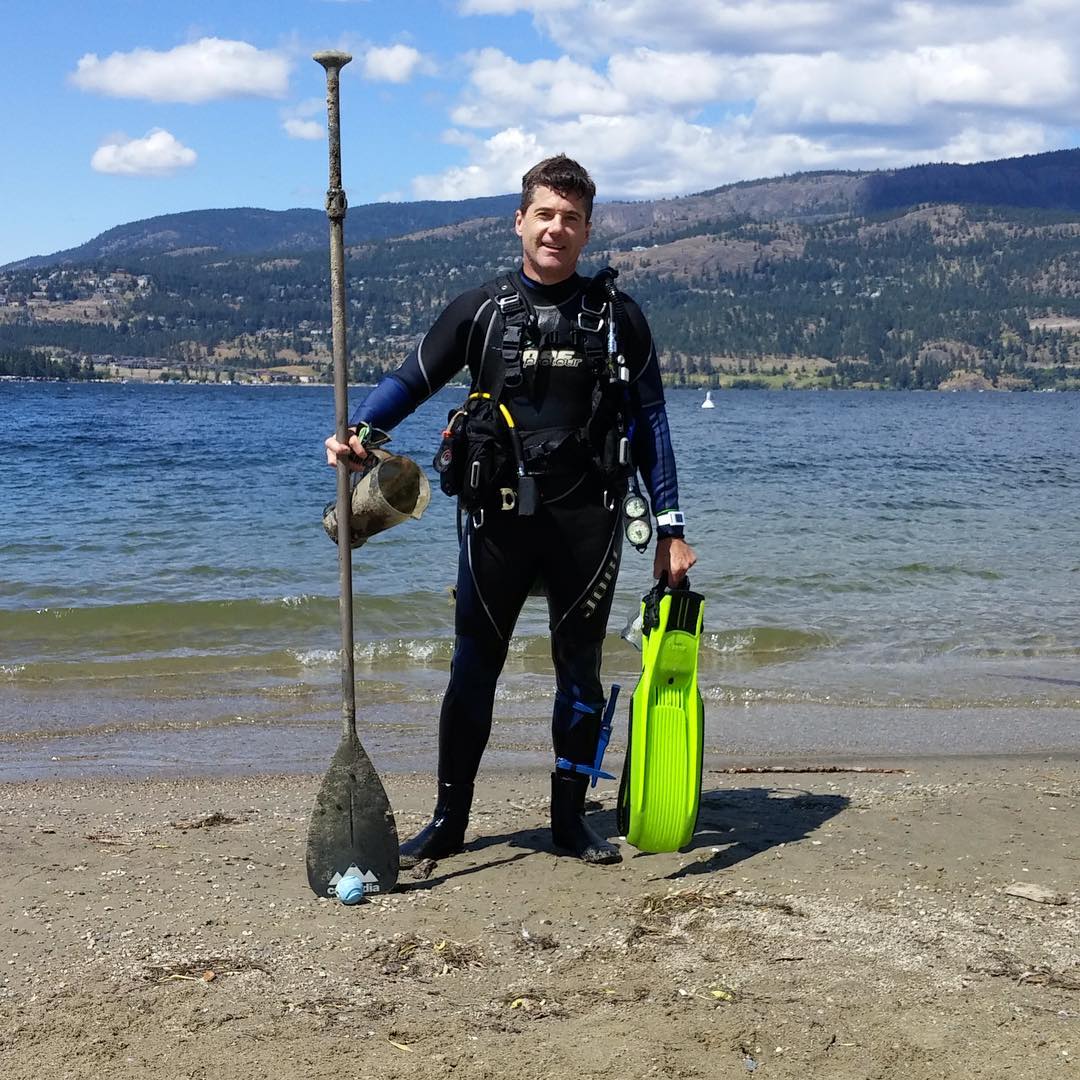 As seen in
[downloads ids="152519" columns="1"]