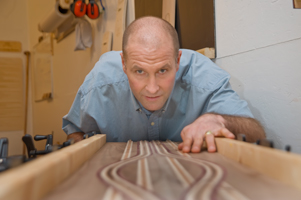 Derek Frechette was intrigued by the rich, red piece of Australian jarrah. It's a wood not often seen on this side of the Pacific because of its rarity and the fact that it's hard on tools, dulling them quickly, even in the hands of a highly skilled woodworker. But Derek had a plan. The jarrah would form an integral part of the design for one of his graceful longboards.
Whenever Derek takes a longboard land-paddling along the waterfront in Kelowna, he turns heads. These aren't just skateboards, they're elegant works of art.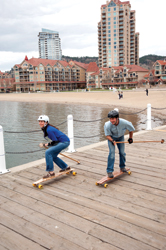 They're called longboards for a reason, being up to 1.8 metres in length. And instead of gravity powering them down steep hills, longboards can be poled along like gondolas by using special land paddles.
With his wife Catherine, Derek owns Peregrine Longboards and since starting operations last summer, he's racked up an impressive client list including Ed Robinson of the Barenaked Ladies, Steven Page, and Tofino mayor, Perry Schmunk.
The reason Derek is attracting this level of attention is craftsmanship. His boards are laminated from a number of different and valuable woods like jarrah, purpleheart, arbutus, walnut, maple and elm.
"I wanted to make something people would want," he says. "It had to be a creation that offered quality and made a statement about that person."
This isn't what Derek started out to do, though. For more than a dozen years he was a guide, then the operations manager for Mike Wiegele Helicopter Skiing in the Cariboos and Monashees. Among his ski clients were the Aga Kahn and his family when they made their annual trips into the heart of the BC wilderness.
But the time came when he began looking for challenges other than skiing two million vertical feet per season.
By chance Derek saw a sign proclaiming the Inside Passage School of Fine Woodworking in Roberts Creek (halfway between Bowen Island and Sechelt). Fine woodworking offered the creative outlet he was looking for and by combining it with his knowledge of the outdoor recreation business, he decided longboards would be an ideal product.
One of the things Derek learned at school was the art of inlay. This time-consuming process allows him to make brilliant designs—like the bird and bush of his Sweet Magnolia board—out of differently coloured woods.
To bring greater precision to the process he has installed a computer guided laser-cutting machine. With it he can produce intricate designs in wood, glass, granite and metal. Part of his business comes from commercial laser engraving.
Taking his product one step further, Derek produces boards that not only look super, but the trucks and wheels he uses combine with the flex of the longboards to give an ultra smooth ride. ~ Bruce Kemp
www.peregrinelongboards.com
Photos by Bruce Kemp