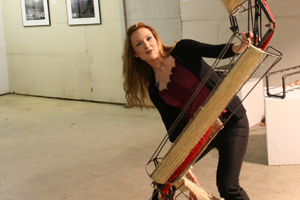 A giant metal hand sits on a track that runs along the ceiling. A hard push sends it lumbering across the room, the forged knuckles almost dragging across the cement floor. Down the hall, bushels of hair, severed and splayed, fill a darkened room. Down the hall, bushels of hair, severed and splayed, fill a darkened room. Around the corner sits a huge pile, torn from books or ejected from a nearby typewriter. Visitors tread softly past. Their footsteps create a current. The paper mountain heaves a breath.
This isn't your typical art show. It's installation art, a form known to push the boundaries of thought and engagement. "I don't even know what that means, instillation art…" my girlfriend comments when I tell her about a recent installation show in Kelowna called the Mad Hatter. I reply with a very scholarly explanation. "It's when, uh, you install art, like, uh, furniture, around a room." Great, here I am tackling an article and I can't even describe it. At least, not on the fly. Luckily, dummies.com offers a much more intelligent answer: "It means taking a large interior (the exterior can be part of an installation, too) and loading it with disparate items that evoke complex and multiple associations and thoughts, longings and moods. It's a huge three-dimensional painting, sculpture, poem and prose work." That's what I meant to say…
The Mad Hatter is an annual exhibit put on through a collaboration of artists and groups, primarily organized by the Arts Council of the Central Okangan.  They take an interesting space, such as an old motel or an industrial building, and install interactive art throughout.
This year I go to the show three times. Before it opens I get a tour with the curator, Nicole Ensing. Without trying to explain the pieces, she offers suggestions that incur wonder. As we tour, her enthusiasm lights up each creation. It feels like she's discovering it with me for the first time.
The second time I visit is a quiet weekday. Rushing in to take pictures, I happily find some good angles and then maddeningly find that my camera battery is dead. I let out a silent scream, pack up and scurry towards the exit. Sitting on guard at a little table, a white haired volunteer stops me with a strum of her guitar. Rising from her chair, she smiles and breaks into a random song, which just happens to be titled I'm Having a Senior's Moment. Watching Betty White's younger sister belt out a ditty describing my damaged brain, while flanked by curious works of art that seem to be humming backup, makes for a surreal and heartwarming experience. I leave with this incredible impression that I just joined the show.
On my third visit I bring my husband. He spends most days surrounded by computers or playing sports, so my job is to administer his monthly dose of art. Unconcerned with having to know much about art to enjoy it, he jumps right in. Pulling levers, pushing parts, he strolls over to a life-sized marionette of armor. I snap pictures while he does his best impersonation of its frozen gait. I walk up to the paper pile, tear up the last of an already shredded book and throw the remains into the air. It feels so wrong, but so right.
Rather than judging the work, I find I am one of its components. Installation art is a self-relevant experience offering inconcrete definitions based on the perception of the participant. In other words, if I don't get it, it's okay. Like life, the biggest reward comes from taking part. ~ Gillianne Richards
Photo by Jason Richards