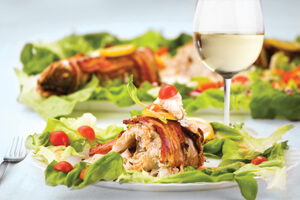 For 20 years, the readers of Okanagan Life Magazine have recognized outstanding chefs and stunning dining spots in the Okanagan Valley. Here's what the best restaurants in Kelowna, Penticton and the rest of wine country are serving up for the Fall Okanagan Wine Festival.

For more. see our Best Winery Restaurant award winners.
Quails' Gate - Old Vines Restaurant
Celebrate the harvest season with Quails' Gate. Winery Chef Roger Sleiman and the culinary team feature local and regional fare with our fall release. Event Details
Bogner's of Penticton
Gourmet dishes prepared and introduced by Chef Darin Patterson are paired with River Stone wines introduced by winemaker/owner, Ted Kane. Event Details
Hillside Winery - The Bistro
Graze among the Grapes is Hillside's premiere Winemaker's Dinner. They will begin with canapés, reception wine & live music in our courtyard; followed by an exquisite five-course paired dinner prepared by Chef Robert Cordonier. Event Details
Summerhill Pyramid Winery
Join Summerhill for a three course Table d'Hote menu prepared by Executive Chef, Jesse Croy; featuring seasonal local organic ingredients with wine pairings. Event Details
Mission Hill Winery - Terrace Restaurant 
Celebrate the legacy of Mission Hill's culinary alumni who have gone on to expand the boundaries of cuisine in Canada and abroad. Executive Winery Chef Matthew Batey CCC will host our alumni chefs for one night only. Event Details
Gray Monk - Grapevine Restaurant
Enjoy a hosted wine paired 5 course dinner that entwines the cuisine of the Alsace and the extravagant offerings of the Okanagan Valley. Event Details
The Vanilla Pod
Experience the culinary creativity of Executive Chef Bruno Terroso, with dishes designed to compliment the award winning wines of Poplar Grove and Monster Vineyards. Join Vanilla Pod for a five course wine paired tasting menu.  Event Details
Hester Creek - Terrafina
Join Hester Creek and Terrafina in the 2nd annual Garlic Festival, Saturday October 5th from 11-4. They will be joined by multiple local growers, artisan producers and live, local entertainment while experiencing fabulous food and wine pairings. Event Details
And here's a few more of our picks from some outstanding locations, and winners of Best of the Okanagan.
Harvest Grill
Join the harvest Grill for a three course culinary creation by our Executive Chef Dan Werry while overlooking Lake. Event Details
The Cove Lakeside Resort
Chef Grant deMontreuil presents his Okanagan inspired Wine Festival tasting menus; highlighting the best of BC's sustainable produce, meat, seafood and dairy. Event Details
Our June issue features the Okanagan Valley's Best Restaurants Awards – now in its 20th year. We're also living the GoodLife with Best Chef Jeremy Luypen and wine writer Michael Botner. Our feature story on boating safety by Patti Shales Lefkos is making sure your memories of this summer's fun on Okanagan waterways are all happy.