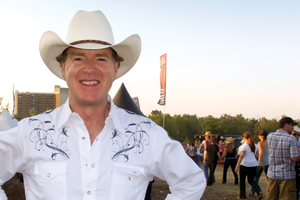 Did you know that music can influence your wine purchases? In a new study, researchers played German music in a store for a day and 73 per cent of the wine sold that day was German. The next day when French music was played, French wines made up 77 per cent of sales; a clear and sobering demonstration of how easy it is to subliminally influence us all.
So it got me thinking, do we have music that Okanagan winemakers could play that sounds purely Canadian? Gordon Lightfoot comes to mind. Celine Dion or Shania Twain? Bryan Adams or perhaps some Barenaked Ladies? Hmm, now that could pair well with a refreshing blush.
With so much music going on in the Okanagan this summer and Okanagan wine showing a great vintage, can the perfect pairing of sound and sip be found?
Perhaps the Canadian sound will surface in the Sam Roberts Band, headlining at Penticton's Rock the Peach Music Fest, or Serena Ryder at Salmon Arm's 20th Roots & Blues Festival. Closer to home, three young men from West Kelowna, We Are The City, sang to their hometown fans from the Island Stage at the Keloha festival in early July. Between songs, their advice to the crowd: turn off Facebook and have a far better summer.
Our young Okanagan talent is as diverse, crisp and pleasing to the senses as the varietals growing from the Shuswap in the north to the desert lands of Osoyoos.
We reach for a glass to toast visiting friends and families, to celebrate milestones, to mark an anniversary or simply to savour the flavour of life in the Okanagan.
Many a glass was raised this month in Calgary, which showcased the best of Township 7 winery, chosen as the official wine of the 100th anniversary of the Calgary Stampede. It's my hope that a fine Okanagan wine and Okanagan music will accompany your festivities this summer.
Any great glass will have a symphony of flavour notes building off of each other to create a super sensation. I've found the notes that pair well for me with my guitar partner Johnny Vesterinen, in our band Johnny vs. Johnny. I'm taking a moment to raise a glass to Johnny and the other talented and passionate Okanagan musicians who have given me the privilege of sharing a stage (and a glass or two) with them, whether on the patio of an Okanagan winery or in my own backyard.
May your days be full of great Canadian music, exciting moments, blissful opportunities and fine wine. Like any good vintage you want to share, keep this issue of Okanagan Life around for friends and family to browse and read. Unlike a bottle of wine, you can open and consume our magazine time and time again. ~John Paul Byrne