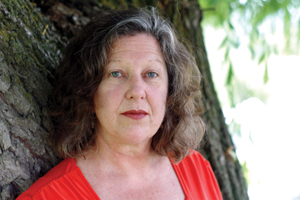 Lori Mairs is an Okanagan artist who truly embraces the saying "go big or go home."
She spent the first 24 years of her adult life in service to people with developmental disabilities. But one snowy night near Christmas, at exactly midnight, she quit her job.
After some discussion with her great aunt, a professor at Stanford University, Lori decided to go back to school. She graduated first in her class with a fine arts degree from Okanagan University College in 2005.
As an artist, Lori is particularly fascinated with bones and they feature in some of her best works. She'd had a commercial practice making jewellery from naturally shed antlers for years when a call from a friend in 2008 led her to unite these interests in a unique project. The friend wanted to give her the bones of a moose—a moose named Toby.
Lori prepared Toby's bones and then the magic began as she created the Bones of Tobias exhibit for the Lake Country Art Gallery. She decided to make what she knew best, jewellery. But not just any jewellery: this jewellery was to fit Lori herself, if she were 60 feet tall.
To create the huge pieces she needed metal and lucked out with four-by-nine foot sheets of copper from Action Metals. "These recyclers are a huge sponsor of my work," says Lori. "The employees are given the heads-up and a general idea of what I'm after, then when I come by shopping, they've set aside materials that might take my interest. These four sheets of 1/16-inch copper were a major find."
The nine-foot sheets of copper were thrown into a fire and had coals raked over them. They were flipped a few times, dragged out, and then hosed off. The result was exactly what she wanted. Other copper was cut into smaller rectangles and thrown in her wood stove.
The Bones of Tobias collection includes a necklace with the moose skull as a pendant, the entire creation measuring 10 feet, 10 inches. There is also a 7-foot, 3-inch bracelet made of vertebrae; 41-inch earrings made from the shoulder blades and vertebrae; a 30-inch brooch made from the ribs; and a 17-inch diameter ring with smaller bones at the base of a rose quartz stone.
Later this year Lori will present a paper in Cornwall, England. "My job is to play with all senses that we have plus the sense and the sensibility that seeks relationships. My job as an artist is to have a relationship with the treeness of the tree—not the tree itself. The paper on acoustic ecology I am presenting is called The Invisible Inbetween."
Lori is editing a film for Nancy Holmes, called Poets in Their Places, as well as working on a film for a conference and another for her thesis. She recently received a Social Sciences and Humanities Research Council of Canada scholarship towards her masters degree.
Her work is on exhibit at the Ashpa Naira Gallery, located at Killiney Beach, south of Vernon on the west side of Okanagan Lake. —Darcy Nybo