Our Okanagan Life Best of BC Wine Awards 2015 judges combined wide experience and extensive training from all facets of the wine industry.

Tracy Gray  is the founder and owner of Discover Wines at Orchard Plaza in Kelowna, Gray has worked in the wine industry for 25 years and hosted a weekly wine feature for two years on CHBC TV. She juggles her commitments as mother, wife and entrepreneur with her civic duties as a Kelowna city councillor.
Lisa Olson is the publisher/owner of Orchard & Vine Magazine, an industry trade publication serving the fruit and wine industry for over 50 years. Ol son also serves as director of the BC AgriTourism Alliance.
Danielle Robinson is the administrator for special projects in food, wine and tourism at Okanagan College. She has recently completed WSET level 3 and, with her husband, is the co-owner of Stable Door Cellars.
Judie Steeves is a wine, food and agriculture writer, and a contributor to Okanagan Life magazine. Author of Jude's Kitchen and co-author of Okanagan Trips & Trails, Steeves is now semi-retired as a long-time writer for Kelowna Capital News.
Mike Lee is a graduate of the prestigious WSET diploma program. Lee is the winery sommelier at Quails' Gate. A native of the UK, here in the Okanagan he combines his great passions for wine and teaching.
Photos: Above: Tracy Gray; top right: Danielle Robinson; middle-left: Lisa Olson; middle- right: Judie Steeves; right: Mike Lee.
Perry Bentley is a chef instructor in the culinary arts program at Okanagan College. Bentley came to teaching after a career with Crowne Plaza and Fairmont hotels. He received the Spirit of Kelowna Award for his role in securing the Gold Medal Plates national competition for the city.
Holly Nixon is a product consultant at Orchard Park Signature BC Liquor Store. Since the early 1980s Nixon's career has included managing Mission Hill's wine boutique, representing wineries from all over the work with the Mark Anthony group, and sitting on boards that developed VQA and the Okanagan Wine Festivals.
Kelley Michael Schaefer has recently returned home to Penticton after 10 years overseas and 20 years as a pro fessional in all facets of the wine and spirits business.
Stefan Struk is the wine shop team leader of the BC Wine Museum and VQA Wine Shop in downtown Kelowna. Struk is a graduate in culinary management from Niagara College, holds a WSET intermediate certificate and is pursuing his advanced certification.
Peter Stefan is the floor leader at the Quails' Gate wine shop. His experience includes extensive work in Sonoma at St. Francis Winery and at George Brown College as an assistant teacher in wine appreciation.
Geoff Kozoway moved to the Okanagan in 2003, working at Sumac Ridge for two years and Metro Liquor since 2005. Specializing in craft beers and imported wines, his qualifications include WSET levels 2 and 3.
Photos- Top left: Peregrine Bentley; top right: Kelley Michael Schaefer; middle left: Holly Nixon; middle right: Stefan Struk; bottom-right: Geoff Kozoway; bottom-left: Peter Stefan.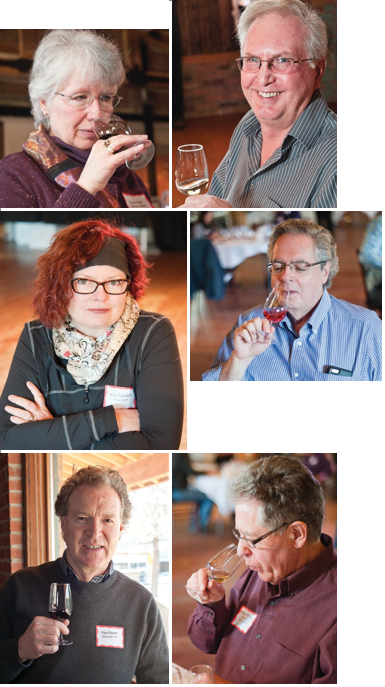 Barbara Reid is currently a sales associate at Discover Wines and previously worked at three BC wineries. She joined the Society of Wine Educators in 1987, has attended hundreds of wine seminars and tastings, and has extensive experience teaching courses about wine appreciation.
Dean Anderson is well known to Okanagan wine shoppers as a product consultant at BC Liquor Stores until his retirement in 2012. Anderson's professional qualifications include the WSET Level 4 diploma and WSET Professional Certificate in Spirits.
Kris Wallace is a freelance writer and an Okanagan super fan with many tasty years working in our Valley's wine industry.
Michael McCoy discovered Okanagan wine and food through his careers in broadcasting, marketing and photography. He has taken on wine educator roles in the tasting rooms of Mission Hill and Intrigue Wines.
Michael Botner is the organizer and chair of the Okanagan Life Best of BC Wine Awards 2015. Botner has been running wine competitions in Kelowna and Ottawa since 1986. As a wine, food and travel writer, he is the wine columnist for Okanagan Life and contributes to Orchard & Vine Magazine.
Paul Byrne is the owner and founding publisher of Okanagan Life magazine, the best read regional publication of its kind in North America. Byrne is an enthusiastic supporter of the BC wine industry.