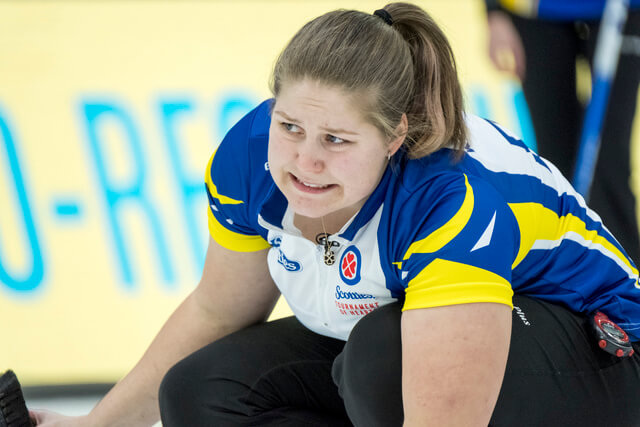 Championship round begins in Penticton
Team BC has made it to the Championship Pool at the 2018 Scotties held at the South Okanagan Events Centre (SOEC) this week in Penticton. The home province is represented by Nanaimo's Kesa Van Osch (above), who has sisters Marika at vice-skip and Kalia at second, along with lead Amy Gibson, alternate Rachelle Kallechy and coach Bill Tschirhart.
The 2018 Scotties Tournament of Hearts is the first 16-team edition of the Canadian Women's Curling Championship, and the first that features a Wild Card entry. Following  seven round-robin games within their pool, Team BC is among the  the top teams moving into the Championship Pool.
The four teams from Pool A will play the four teams from Pool B Thursday and Friday, and then the top four win-loss records (including the preliminary round) will move into the traditional Page playoffs beginning Saturday.
Leading the teams is Team Alberta led by skip Casey Scheidegger, who enter the tournament as the #1 seed in Pool B.
Jennifer Jones's Manitoba team from Winnipeg has added Shannon Birchard at the vice-skip position, replacing Kaitlyn Lawes, who is heading to South Korea to compete in the first Olympic mixed doubles curling competition with partner John Morris. Lead Dawn McEwen and coach Wendy Morgan round out the Manitoba champs.
Jones, along with her longtime second Jill Officer, if they win gold, will join Nova Scotia's Colleen Jones as the only six-time winners of the Scotties Tournament of Hearts.
Winnipeg's Michelle Englot, along with teammates vice-skip Kate Cameron, second Leslie Wilson, lead Raunora Westcott, alternate Briane Meilleur and coach Ron Westcott, are wearing Team Canada colours in Penticton after a memorable silver-medal result a year ago at St. Catharines. With 2017 Scotties champs Rachel Homan and her Ottawa team representing Canada at the Winter Olympics, the Scotties Team Canada assignment automatically went to the 2017 runner-up.
On the ice this morning is a tiebreaker game between Ontario and Newfoundland to determine the fine spot.
More than 27,000 have taken in the action in Penticton throughout the tournament so far.
Championship Pool
(teams listed according  skip through alternate, coach and hometown)
Alberta Casey Scheidegger (Cary-Anne McTaggart, Jessie Scheidegger, Kristie Moore, Carolyn McRorie; Grande Prairie)
Wildcard Kerri Einarson (Selena Kaatz, Liz Fyfe, Kristin MacCuish, St. Paul, Manitoba)
Manitoba, Jennifer Jones (Shannon Birchard, Jill Officer, Dawn McEwen, Wendy Morgan; Winnipeg)
Northern Ontario, Tracy Fleury (Crystal Webster, Jenn Wylie, Amanda Gates, Jenna Walsh, Andrea Ronnebeck; Sudbury)
Nova Scotia Mary-Anne Arsenault (Christina Black, Jennifer Baxter, Jennifer Crouse, Carole MacLean, Peter Corkum; Halifax)
Canada Michelle Englot (Kate Cameron, Leslie Wilson, Raunora Westcott, Briane Meilleur, Ron Westcott; Winnipeg)
British Columbia Kesa Van Osch (Marika Van Osch, Kalia Van Osch, Amy Gibson, Rachelle Kallechy, Bill Tschirhart; Nanaimo)
Feb 1- 2:00 PM
TBD vs Wild Card (6-1)
British Columbia (4-3) vs Manitoba (5-2)
Canada (5-2) vs Nova Scotia (5-2)
Alberta (6-1) vs Northern Ontario (5-2)
Feb 1  - 7:00 PM
Canada (5-2) vs Northern Ontario (5-2)
Alberta (6-1) vs Nova Scotia (5-2)
British Columbia (4-3) vs Wildcard (6-1)
TBD vs Manitoba (5-2)
Feb 2- 2:00 PM
Alberta (6-1) vs Manitoba (5-2)
Canada (5-2) vs Wildcard (6-1)
TBD vs Northern Ontario (5-2)
British Columbia (4-3) vs Nova Scotia (5-2)
Feb 2 - 7:00 PM
British Columbia (4-3) vs Northern Ontario (5-2)
TBD vs Nova Scotia (5-2)
Canada (5-2) vs Manitoba (5-2)
Alberta (6-1) vs Wildcard (6-1)