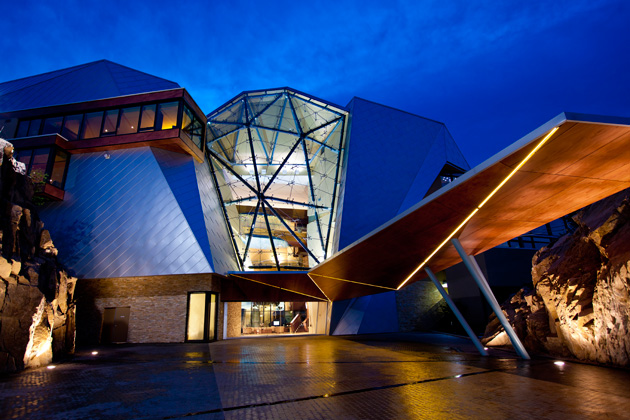 Inspired by the great spas of Europe, enchanted by more than 3.5 million Swarovski crystals, and surrounded by the beauty of Okanagan Lake and the Monashee Mountains, Sparkling Hill is a North American trendsetter in healthy living and wellness hospitality. From luxurious suites and fine dining to the amenities and treatments of state-of-the-art KurSpa, this resort provides a completely unforgettable experience.
Each sumptuous room opens a floor-to-ceiling window wall on warm sunlight, fresh mountain air and peerless views enhanced by the unique Swarovski architecture within. Amenities include custom soaking tubs, strategically placed to maximize the lake and mountain views, wireless internet and available in-room dining. Guests enjoy a full complimentary breakfast buffet offering expansive choices from healthy to indulgent; exclusive access to KurSpa pools, steam rooms and saunas, the Keiser-equipped fitness studio, and the Serenity and Tea Room for rest and relaxation.
KurSpa offers all the amenities for pampering and health, with more than 100 innovative healing treatments for guests to sample a la carte or combined in fully-planned wellness vacations. For those seeking a more comprehensive wellness retreat, the naturopaths, kinesiologists and estheticians of the KurSpa Clinic have integrated the very best in traditional European spa treatments, naturopathy and homeopathic medicine. And integrated wellness means caring for the mind as well as the body. SHaRP is the Sparkling Hill relationship program, a three-day package of group education and individual meetings with the resort psychiatrist designed to enhance relationships at work and at home.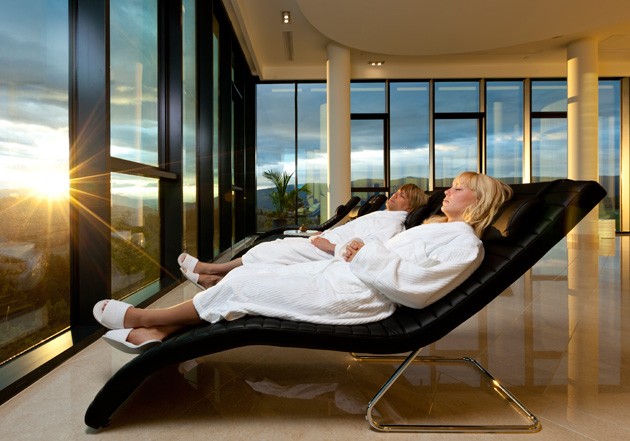 Completing the incomparable destination spa experience is Sparkling Hill's exceptional dining and catering. PeakFine restaurant is renowned for its sparkling ambiance, stellar views and exquisite cuisine. Chef Marco Herbergs matches his menus to the seasons, celebrating the freshest Okanagan and province-wide ingredients with sophisticated European service.
For lighter fare, Barrique & Java provides its own wonderful views in more casual style. Throughout the morning, freshly baked pastries complement coffee selections while the menu expands to soups, salads, sandwiches and shared plates later in the day. Evenings, the coffee shop transforms into a relaxed wine bar with vintages by the glass from Sparkling Hill's carefully curated wine list.
With such spectacular amenities and a location like no other, Sparkling Hill has also developed into a highly sought-after event destination. Private gatherings from corporate meetings and executive lunches to family celebrations and unforgettable weddings, fit perfectly in Gernots. Accommodating up to 50 guests, the room provides a feeling of rustic luxury created by reclaimed barn board, stone hearth, Swarovski crystal chandelier, local antiques and built-in wine bar. A private outdoor patio extends the space to take even greater advantage of the natural woodlands and those peerless lake views.
No wonder readers and reviewers in publications from Condé Nast to Trip Advisor, Fodors to Okanagan Life repeatedly rate Sparkling Hill among the top spa destinations and experiences available today. Learn more at sparklinghill.com.
PROMOTION
Published annually, Okanagan Life Progress presents
Okanagan Valley business stories told by the people behind them.
For advertising details, see Share Your Story of Progress.