Introducing Fawn Run at The Ponds
Does today's hectic lifestyle leave you longing for a simpler time, when things weren't quite so rushed? Have you been thinking the days of children riding bikes, climbing trees and playing outside are gone for good? It sometimes feels that way, doesn't it? That those simple pleasures are all but forgotten in our plugged-in, instant-on world of smartphones, tablets and video games. Where we dash madly from one activity to another without really taking the time to savour what's real, what's important?
But if you're ready for a change — if you're ready to slow down and truly appreciate all that life and nature have to offer — then you're ready for Fawn Run at The Ponds. It's where they can — once again— recapture that sometimes elusive but wonderful rhythm that can only be found in the great outdoors.
Let's imagine for a moment what having nature at your doorstep really looks like. It's a neighbourhood where families can explore, discover and wonder at all that nature has to offer. Where they can make the most of every square inch of backyard playing space. Fawn Run is a modern, new community with a vision that's pure and simple. It's based on the premise that we're healthier when we feel connected, we're more productive when we feel inspired and we're happiest when we're living an active, balanced lifestyle.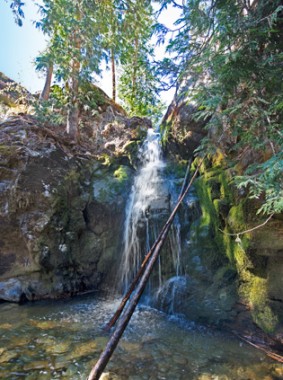 With 90 acres of greenspace, over 22 kilometres of walking trails and five lush ponds, home has never felt this good. Fawn Run's thoughtfully planned amenities are abundant and the community takes its cues from the beauty that surrounds it. An intricate trail system connects private enclaves of homes to the nearby lakes, waterfalls, woodland areas and grasslands that surround it. Perched atop a spectacular mountain plateau, Fawn Run is ideally situated alongside the untouched wooded southern slopes of Kelowna's most desirable Upper Mission neighbourhood. The 450-acre development will bring neighbours together with parks, playing fields and walkable urban amenities designed to integrate modern living with outdoor recreation in the best possible way.
The first offering of unique homes sites will be released will be released this spring with prices starting at $242,500. This community encourages diversity and has set up a homebuilding program that allows buyers to select their own architect and builder to craft a home that is unique to them. That means streets lined with homes that are distinctive and reflective of the personal styles of the families that live in them. It makes sense, when you think about it. We were all designed as individuals so shouldn't our homes be one of the greatest reflections of our personal style? It's refreshing to see a development that recognizes and respects freedom of expression and can envision master planned communities as something more than cookie-cutter suburbia.
To learn more about this special opportunity visit the Fawn Run show home at 5730 Mountainside Drive, past Chute Lake Road in the Upper Mission. Or visit them online at fawnrun.ca.
PROMOTION
Published annually, Okanagan Life Progress presents
Okanagan Valley business stories told by the people behind them.
For advertising details, see Share Your Story of Progress.