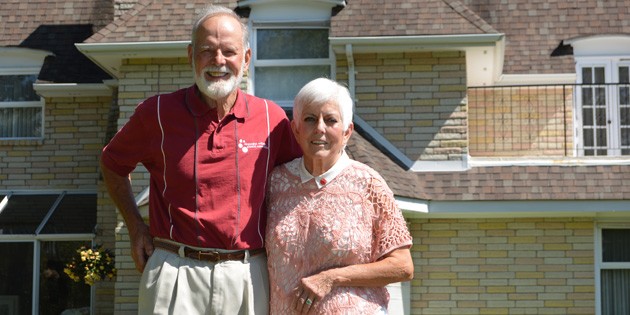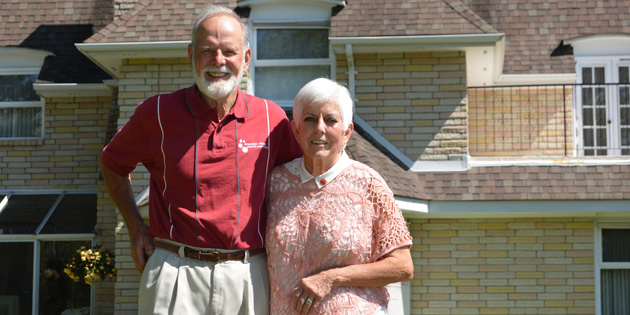 Their family's connection to Okanagan College goes back more than 50 years, and through a generous donation to the new Trades Training Complex at the Kelowna campus, Cliff and Lois Serwa are helping the College build for the next 50.
The Serwas have given $50,000 to the Bright Horizons Building for Skills fundraising campaign behind the $33-million renovation and expansion of the College's trades training facilities in Kelowna. The donation will support the construction of a state-of-the-art classroom space in the new three-storey tower along KLO Road.
"This community has been good to us and we're very proud to be able to give back and support an institution that continues to have such a far reaching impact on students from all walks of life in the Okanagan," says Cliff Serwa.
"Whether it's supporting students fresh out of high school, or mature students, or single parents going back to school to find employment so they can support their families, the opportunities Okanagan College creates valley-wide are truly invaluable."
Okanagan College President Jim Hamilton says community support for the campaign, in addition to topping up the provincial government's investment of $28 million for construction of the new building, is also helping the College create new awards, bursaries and other support for trades students.
"We are sincerely grateful to Cliff and Lois Serwa for this generous investment in our students' futures," says Hamilton. "Support like this sends a strong message to our students that there are people in the community who believe in their potential and want to see them succeed."
"The Bright Horizons campaign is aptly named because this renovation and expansion project is about just that—creating opportunities and building bright futures for the more than 2,400 students per year who will train in this new facility. And with a provincial skills gap projected across much of the trades sector over the next five years, this new facility will help bridge that gap."
Cliff Serwa is known for co-founding Big White Ski resort and for his work as a political figure in British Columbia. He represented Okanagan South from 1986 to 1991 and Okanagan West from 1991 to 1996 in the Legislative Assembly of British Columbia, and also served in the provincial cabinet as Minister of Environment. Their granddaughter Kelsey Serwa is a world-class freestyle skier; she won a silver medal at the 2014 Winter Olympics in Sochi.
The Serwas' support of students at the College goes beyond the trades. In 2007, they established an annual bursary for students enrolled in the Early Childhood Education program.
"Having worked around the trades, I can certainly appreciate the importance of formal training, now more than ever, as the trades become increasingly technical," notes Serwa.
"But on a broader level, the College offers students young and old so many avenues to better their lives through education."
"The value of a gift lies not in its price but in its potential," says Lois Serwa.
The Bright Horizons Building for Skills campaign complex launched in October 2014. The College is aiming to raise $5 million for capital construction costs and $2 million for program and student support, in order to top up the provincial government's commitment of $28 million for the project.
More information about opportunities to get involved, including ways to contribute to existing awards, or establish new support for trades students, is available at www.okanagan.bc.ca/campaign.