Boxes of donated warm clothing that have been jamming the halls where Okanagan College's Bachelor of Science in Nursing program lives are on their way to making a difference for Kelowna's disadvantaged.
The first- and second-year students who sit on the program's Global Health committee – a civically-minded, student-led initiative for social equity – were looking to launch a holiday coat drive for those in need when they found the perfect campaign already on campus.
The nursing students joined up with the Pay it Forward campaign, an annual giving drive started by a former College student and run by the College's Alumni Association. Each year several holiday-wrapped donation boxes are placed around the Kelowna campus for donations of blankets, clothing or unused toiletries to go to three local non-profits – Inn from the Cold, the Kelowna Women's Shelter and Kelowna Gospel Mission.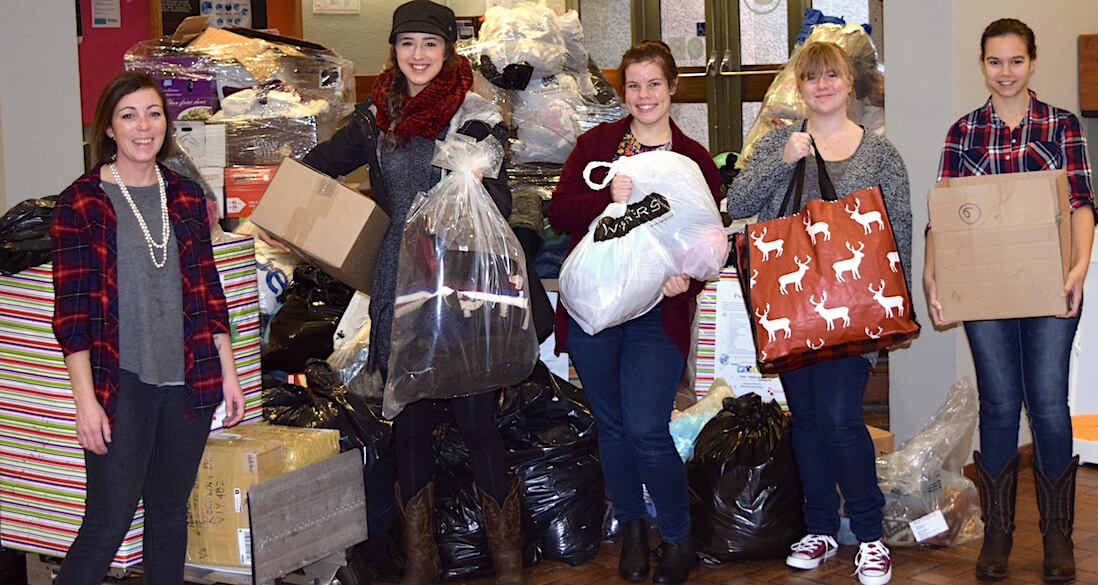 Over the past month, the group of 10 student representatives on the Global Health committee have been spreading the Pay it Forward message to their peers and encouraging them to participate.
"We knew there would be a positive response from our classmates because we had run successful projects before, including a food drive," says Christie Kneller, a BSN student and a representative on the volunteer committee. "But we didn't expect this much!"
In 2007, Sarah Comba, an Okanagan College business student, began Pay it Forward after an experience she had volunteering at the Gospel Mission.
"I offered an elderly client two pairs of socks, but they insisted on only taking one pair and giving the other pair to someone else in need," she explains. "The spirit of selflessness ­– that one small action could make a big difference for someone else – is what ignited the Pay it Forward campaign."
Following graduation, Comba has continued to partner with the College's Alumni Association to run the campaign, which is now in its 11 year. She returns to campus each year to help coordinate the event and even takes a day off from her job to hand-sort the donations alongside volunteers from the community and the College. This year the volunteers included a student from the BSN program.
The 2016 campaign saw six truckloads full of donations to the non-profit organizations. The contributions from the nusring students accounted for 15 per cent of this year's overall donations, which collectively come from the generosity of the College's students, employees, alumni, and external community members who have heard about the drive.