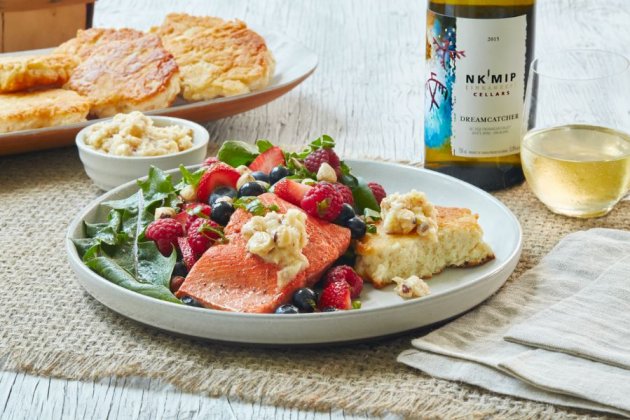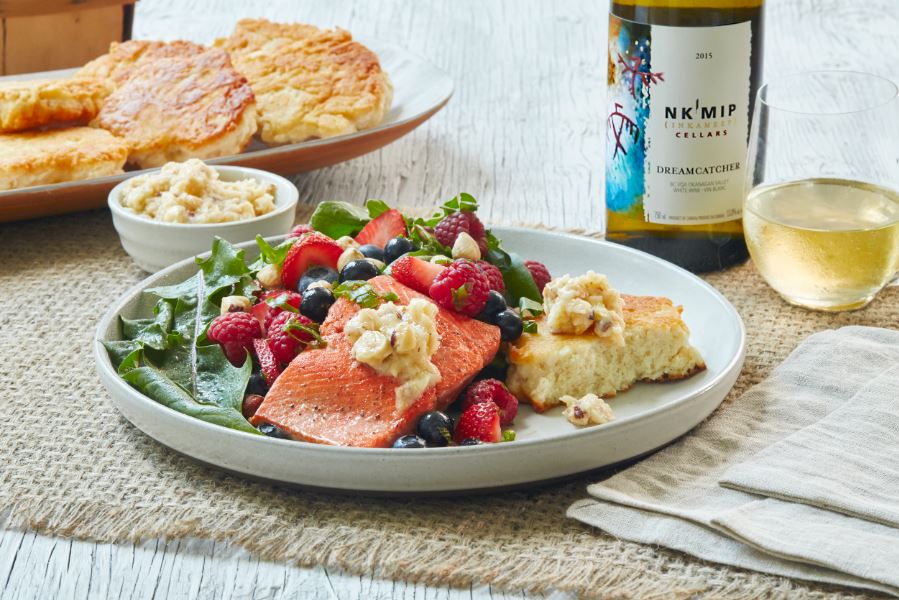 On June 21 Canadians are invited to celebrate National Aboriginal Day's 20th anniversary by raising a glass of expertly crafted wine from North America's first Aboriginal owned and operated winery, Nk'Mip Cellars. These award-winning wines have won many fans across the country and taste even better when paired with indigenous-inspired recipes.
Just in time to celebrate, the newly released 2015 Winemaker's Series Dreamcatcher and 2015 Winemaker's Series Rosé are destined to be summer favourites. Dreamcatcher is an aromatic white blend primarily featuring Riesling, Sauvignon Blanc and Pinot Blanc. The wine has lively lemon citrus on the palate that rounds into supple melon, balancing the wine's refreshing acidity with a hint of sweetness. The 2015 Rosé is a blend of Merlot, Syrah, Pinot Noir and Cabernet Franc with a bright, field-strawberry nose leading to a crisp palate with flavours of rhubarb and grapefruit.
Three recipes have been created to put a twist on a couple of long-standing staples in Aboriginal diets – salmon and bannock.  A wild salmon recipe featuring local berries, fresh greens and toasted hazelnut butter with a side of hot, crispy bannock offers all the elements of a well-balanced dish.  Wild salmon is a perfect protein for summer and its neutral flavour lends itself to pairing well with a variety of wines. The citrus in the berry salsa complement Dreamcatcher's citrus notes while cutting through the rich, toasty butter. The Rose's strawberry notes and light acidity pair nicely with the recipe's featured berries while also working well as a pre-dinner aperitif.
Assistant Winemaker and Osoyoos Indian Band Member, Justin Hall produced another aromatic stunner in the 2015 Dreamcatcher. "It is beautifully balanced with some residual sugar and a bracing acidity," shares Hall. This ultra popular wine is a great patio sipper and also pairs wonderfully with the provided recipes.
Rosé is having a moment in the wine world and Nk'Mip Cellars' version is a terrific South Okanagan example. Winemaker Randy Picton shares, "This wine has distinct cherry aromas with a very pleasing structure. It is dry in style with a slight amount of tannin and crisp acidity make it a very versatile wine."
National Aboriginal Day was first observed twenty years ago in 1996. The nation-wide celebration offers an opportunity for all Canadians to share and experience the unique heritage, diverse cultures and outstanding achievements of the country's First Nations, Inuit, and Métis peoples. This day marks an occasion to celebrate the unparalleled contributions to the development of Canada by its First Peoples. The summer solstice holds special significance for many indigenous groups, who already celebrate their heritage on this day.
Pronounced "in-ka-meep," Nk'Mip Cellars  North America's first Aboriginal owned and operated winery overlooks Osoyoos Lake in the Okanagan Valley, British Columbia. Using grapes from the Osoyoos Indian Band's Inkameep Vineyard, winemakers Picton and Hall produce wines in three tiers: Winemaker's Series, Qwam Qwmt and Mer'r'iym.
Nk'Mip Cellars wine lovers are encouraged to pay a visit to the winery this summer to experience the exceptional wines in their gorgeous desert setting. The bright and inviting winery showcases First Nations culture in design, food and wine. The wine shop offers daily tastings and the on-site restaurant, The Patio, offers a fresh, farm-to-table culinary approach that showcases Aboriginal techniques with both a varied lunch menu and a simple sunset menu.