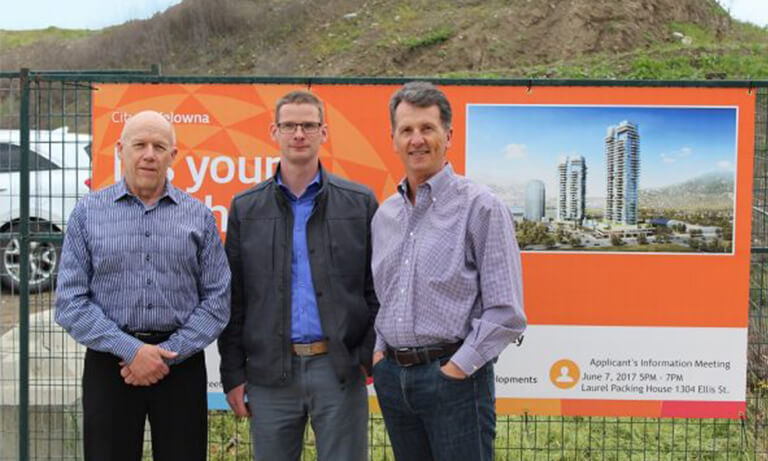 North American Development Group (NADG) and builder Kerkhoff Construction have announced that they are partnering to develop Kelowna's tallest high-rise condominium tower project. A public Open House on the proposed development is set for June 7  from 5 p.m. to 7 p.m. at the Laurel Packinghouse on Cawston and Ellis.
Named One Water Street to reflect its address, its proximity to the lake, and its downtown urban Okanagan feel — the proposed condominium project consists of two towers. If approved by the City, they will be the tallest towers between Metro Vancouver and Calgary at 29 and 36 storeys respectively. Advantages of the height increased include better view-corridors between the towers, better views from the homes and a more iconic and distinctive affect to the Kelowna downtown area.
"Our aim, in creating One Water Street, was to enhance the sense of place in downtown Kelowna that connects Sunset Drive to the Cultural District," says Henry Bereznicki, managing partner, NADG.
Most recently, Kerkhoff Construction has been building 1151 Sunset Drive, a new development adjacent to the One Water Street site. 1151 Sunset Drive is currently under construction with all 21 storeys of the structure to be in place by the end of July. Since commencing sales six months ago, over 80 per cent of the homes have sold and 1151 Sunset Drive is expected to be completely sold out long before the building is finished in summer 2018.
The partnership has engaged the internationally-renowned Kasian Architecture to design One Water Street. Kasian uses collaborative community minded thinking to design buildings that are distinctive and distinguished. They are recognized by New York's Interior Design Magazine as one of the top 100 firms in the world based on the criteria of fees, market and growth. Thus, One Water Street is a partnership between two highly successful developers with strong track records.
"Kerkhoff Construction has done a great job with 1151 Sunset Drive creating some real momentum for Kelowna's vibrant downtown," says Russ Watson, development partner, NADG. "Having them as a partner on this project is a fantastic asset. The residential high-rise experience they bring to the project will help shape this project into a one-of-a-kind in Kelowna."
Those interested in attending the open house should register at OneWaterStreet.ca to receive updates or drop by the Laurel Packinghouse on Cawston and Ellis.
Photo: Russ Watson development partner of NADG, Leonard Kerkhoff vice-president of Kerkhoff Construction and Henry Bereznicki, managing partner, NADG Photo by Mas Taki, LH Digital