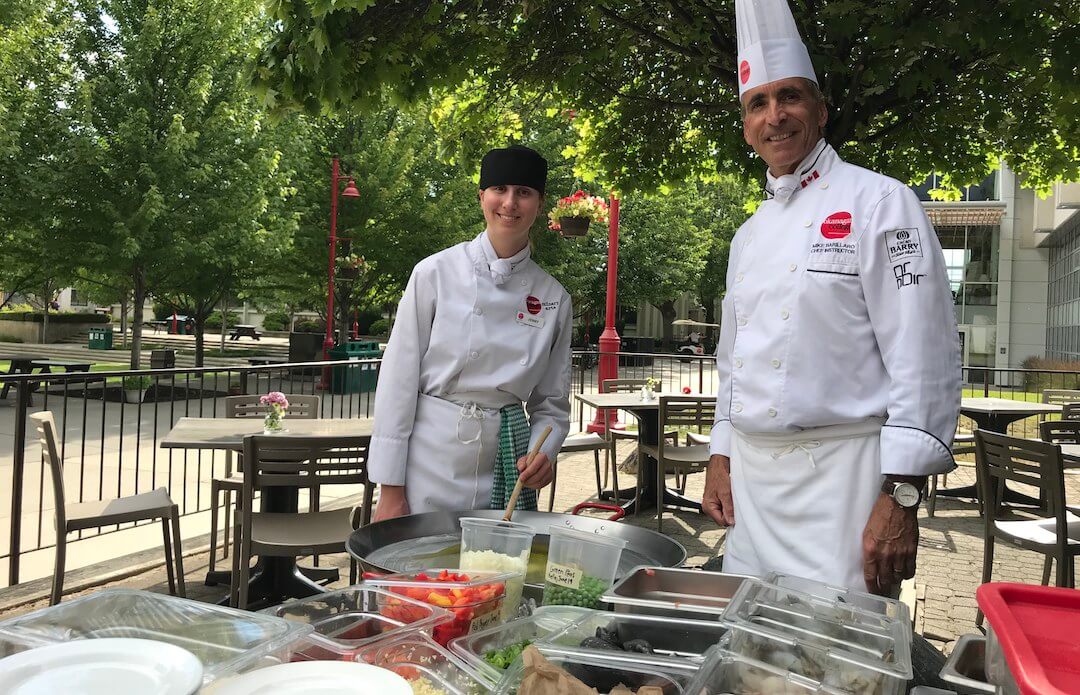 Those in search of a new go-to patio to sip Okanagan wines and savour locally-inspired bites will find their table at Infusions Restaurant at the College's Kelowna campus this summer.
Starting on Friday, June 22, the restaurant will be open Tuesday to Friday, serving up an appetizer-style light menu from 2 to 4 p.m. and dinner starting at 5 p.m. (last seating at 7 p.m.).
The menu was carefully crafted with input from those who will be cooking it – the College's Culinary Arts students.
"This year marks the first time the restaurant has been open over the summer months, which is very exciting for our students," says Culinary Arts instructor Chef Mike Barillaro. "It inspired us and challenged us to get creative in crafting the perfect Okanagan summer menu, one that really showcases all the wonderful local ingredients of the season."
The new summer hours build on a model that has benefitted the College's culinary students – and local diners – for years.
"From menu design to prep to cooking, Infusions offers our chefs-in-training first-hand experience in a fast-paced, real-world kitchen. The menu will change slightly over the summer, as students are learning new things as part of the curriculum. They take tremendous pride in ensuring our guests have a great experience," says Barillaro.
Also just in time for summer and the new menu is a new patio set-up that will enhance the restaurant's already picturesque view of the College's courtyard.
"I always like to remind people that we have a bright, summery space here on campus," adds Barillaro. "It's a bit of a hidden gem, in Kelowna's patio scene."
Another benefit for diners? Infusions is one of the few restaurants in the valley that doesn't charge corkage fees.
"You can bring in your own BC VQA wine and have it opened at your table at no charge," says Barillaro. "Of course, the restaurant also has a great selection of local wines, and our fantastic staff is more than happy to help you select and pair the perfect wines with your meal."
Apart from closures for curriculum purposes from July 30-Aug. 17 and Sept. 24-28, the restaurant will be open and the new summer-hours will be in effect until Sept. 21, when regular lunch and dinner service will resume.
Reservations are recommended. To find the new menu, visit okanagan.bc.ca/infusions. To book a table call 250-862-5455 or email infusions@okanagan.bc.ca.
Photo: