Okanagan businesses can extend their marketing reach for a full year with print, web and email ads, plus an article on your business.
See the Choose your plan PDF for full details on our package bundles.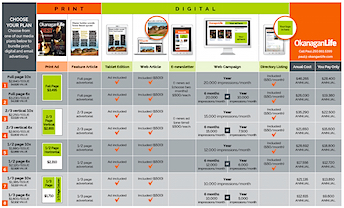 Magazine Print Ad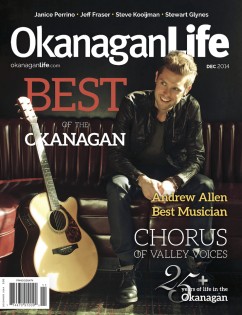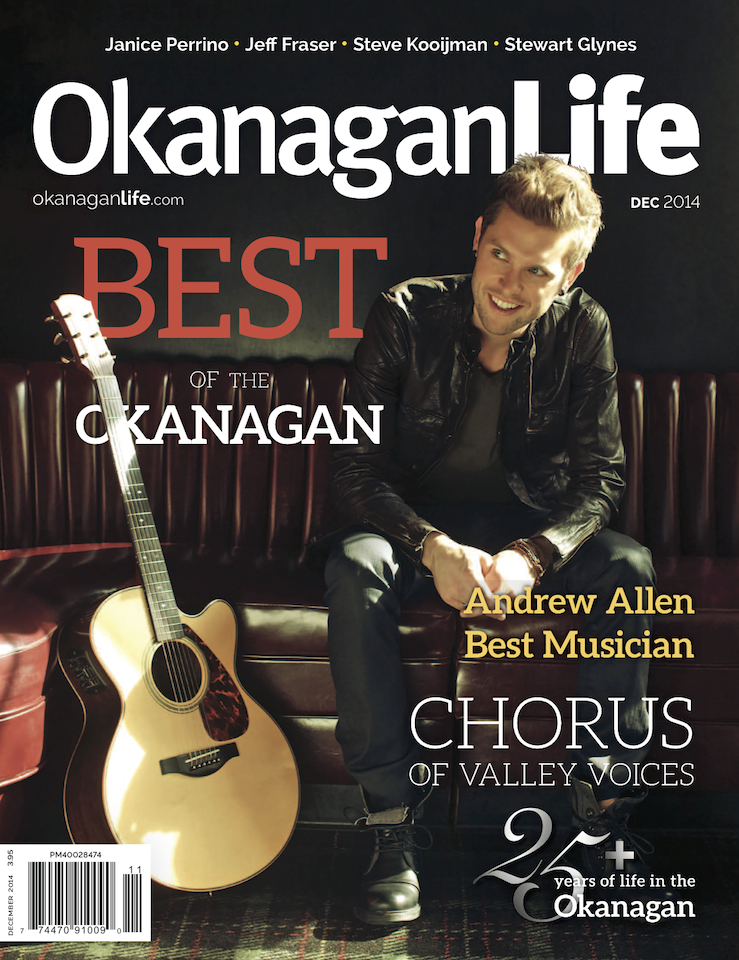 Choose a 6x or 10x annal plan. Okanagan Life does not expire in 30 seconds or hours. Exceptional stories. CVC audited circulation.
Two magazines in one. With a print run, 4 to 5x the North American average, Okanagan Life's emailed to 16,800 businesses and homes. In three months, Okanagan Life's business circulation generates 380,000 reader exposures in businesses, offices and waiting rooms. It's residential circulation generates over 110,500 read exposures with affluent homeowners and visitors.
Feature Advertorial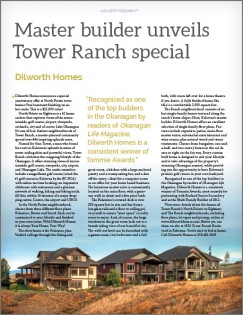 Bring added credibility to your brand, and take advantage of the powerful engagement with our readers.
Advertisement features, or 'advertorials', can be submitted — or crafted by our professional writers— and enable you as an advertiser to use the voice and style of the magazine to tell the story of your business. Your annual plan includes one advertorial.
Web article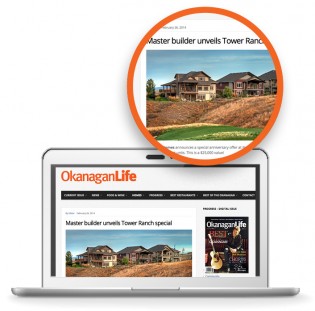 (Value: $500/post)
The feature article on your business will also be posted to okanaganlife.com. The website carries all magazine stories as well as the latest community news, happenings wine reviews concert and concert and event updates.
Okanaganlife.com is a trusted online news service – watch as your company ranks on page 1 of search results. Enjoy the power of a online story and links to your business website that will grow your SEO.
Full-page annual plans include two articles/year. One web article is included in a 2/3 page plan.
Tablet Edition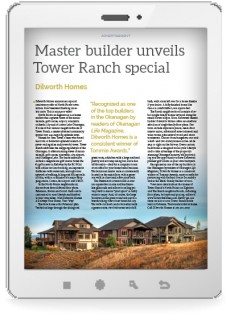 Ten times a year Okanagan Life publishes the full magazine in digital format for tablet viewing. Your annual plan ensure your ad is also includes in the tablet editions, including hyperlink directly to your website.
E-newsletter Ad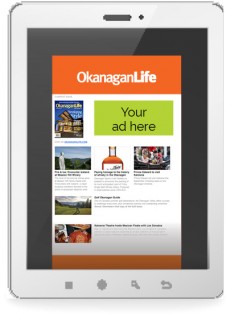 Reach our readers directly in their inbox by sponsoring an email update.
Full-page annual plans include two email sponsorships per year. One email sponsorship is included in a 2/3 page plan.
Web campaign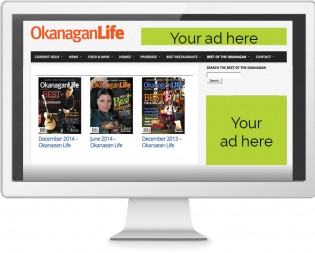 Readers are coming to okanaganlife.com for the latest Okanagan wine, homes and community news. Your annual plan includes a year digital ad campaign plan. See the PDF plan for full details of monthly impressions.
Top cities:
Kelowna | Vancouver | Vernon | Penticton | Calgary | Edmonton
Directory Listing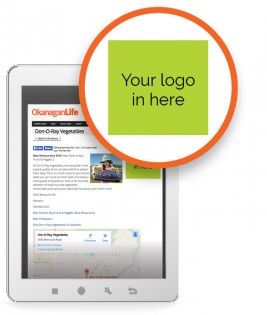 (Value: $50/month)
Our Insiders Guides sees thousands of views each month as visitors are seeking out best restaurants and the Best of the Okanagan businesses. Your annual plan includes a premium listing complete with website links, logos, photos, maps and a full description of your business. Each listing includes real-time integration with your social media channels.
Pick Your Plan
Choose from one of our media plans below to bundle print, digital and email advertising for a full year. This is a per placement price.
Your first ad will be booked for the next issue of <em>Okanagan Life</em>. You will then be invoiced for your ads per issue for the rest of the contract.
[purchase_link id="145463″ style="button" color="inherit" text="Purchase"]