The City of Kelowna has finalized a deal for more than $6 million with Al Stober Construction to purchase the remaining five parcels at the Central Green site. Development of the site is expected to start as early as 2015.
"The City and the community worked together from 2008 to 2011 to create a comprehensive plan for Central Green that would guide its development," said Mayor Walter Gray. "The properties have been for sale since 2012, but we now have the right market conditions and a local developer that came to the table with an offer that will see the community's vision for the site unfold."
"We are very excited at the opportunity to deliver a top quality residential development for this great location adjacent to Kelowna's downtown," said Steve Kumpf, General Manager for Al Stober Construction. "Our pedestrian-oriented development plan for Central Green creates a vibrant and livable neighborhood that includes a large community park and is a quick walk to the beach or downtown's dining, shopping and central business district."
Located minutes from downtown and across from Kelowna Central School, the site is bordered by Harvey Avenue, Richter Street and Rowcliffe Avenue. It is made up of nine parcels and was once the home of Kelowna Senior Secondary School. As part of the community planning process, it was established that the site would be a LEED certified neighbourhood using fewer resources, including water and energy.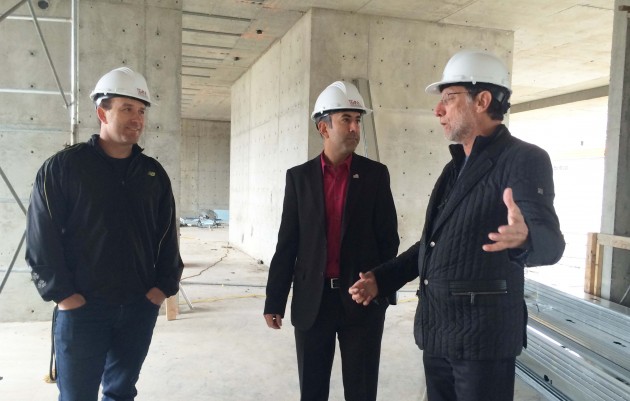 Photo: City Councillor Colin Basran  (centre) discusses the progress on affordable housing with developers Dustin Sargent and Dave Krysko.
Construction is already underway along the Rowcliff Avenue corner of the development. As part of the land sale of the Rowcliffe parcel, the City negotiated a 15-year housing agreement with Davara Holdings to ensure affordable housing units would be built. The new residences will provide a minimum of 30 units, ranging from studio to 3 bedrooms, in an effort to provide a continuum of care for clientele of the Karis Support Society.
"This project will not only provide safe housing but also the support, life skills and training needed for women caught in life altering addiction issues and mental health," says developer Dave Krysko. "There has been a lack of long term recovery programs for women struggling with addictions and the City's leadership on affordable housing is now helping to close that gap."
Housing units will wrap around a two-hectare parcel dedicated for Rowcliffe Community Park. The park is scheduled for construction in 2017.
For more information on Central Green, visit kelowna.ca/cityprojects.
Photo: Artist's rendering of the Karis Support Society's Central Green Care Facility.