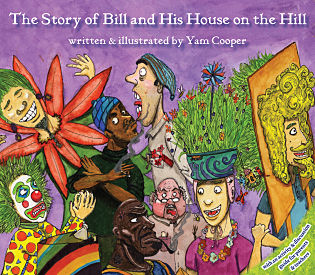 Local Anti-bullying author and illustrator Yam Cooper introduces a grass-headed outcast inventor in his first book, The Story of Bill and His House of the Hill. Inspired in part by his experiences with bullying and war when growing up, the book explores the essence of friendship and social norms and includes an educational activity guide for parents and educators.
Along with a book reading, Cooper will demonstrate the use of the book as an educational tool in an anti-bullying workshop where participants will learn about different types of bullying. The event, for parents and children aged 6 and up, will take place on Friday, Sep. 26 at 6:30pm in the Leir House Cultural Center as part of Culture Days.
The Story of Bill and His House of the Hill is a tale of inspiration for all ages that brings a deep approach to diversity, leadership and xenophobia. Making many innovative attempts to overcome obstacles and make friends in a society openly rejecting him because of his unique grass hair, Bill ends up developing a very special friendship with a deaf-blind critter and reinventing a language that bypasses discrimination and connects people through the heart. A refreshing and humorous story about not giving up, respecting oneself, and creative thinking, this adult-book-in-disguise further aims to make an impact on the cycle of bullying with its fun yet thought-provoking activity and discussion guide called "Beyond the Green Noggin." Bill's rhyming, surprising and intelligent journey aims to educate minds of all ages to become critical thinkers and take action towards a kinder world.
"This story has many layers. With each reading, depending on their age, life skills and experience, the reader can discover the one that opens their mind or sparks an important lesson for life," says Cooper. "The book touches on many topics in a fun and engaging way, like creativity, racism, discrimination, sustainability, language, openness, taking action, staying positive, and many essential skills for life. I hope to reach children before they become bullied or bullies, as Bill's story can positively influence their direction in life."
Paul Hooson, founder of therapeutic clowning in BC, Canada, says the story "is told in a wonderfully quirky voice, drawing on the author's ability to use language in unusual and compelling ways, sketch warm and engaging characters, and bring the tale alive with detailed drawings," and adds that "it holds much wisdom, is great fun to read aloud and will inspire important discussion."
Yam Cooper will do a reading at the Penticton Farmers' Market on Saturday.
Culture Days is committed to reaching the goal of having all Canadians in every community declaring "I Love Culture" and making culture a daily habit. Penticton and Summerland will hold together this year 13 events in the frame of Culture Days. The fifth annual Culture Days weekend will take place September 26, 27 and 28, 2014, and will feature thousands of free, hands-on, interactive activities that invite the public to participate "behind-the-scenes," to discover the world of artists, writers, creators, historians, architects, curators, designers and other creative people in their communities.