Join the excitement at Creekside Theatre this February: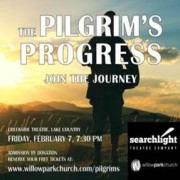 The Pilgrim's Progress
February 7 at 7:30 pm
We are happy to welcome Searchlight Theatre Company back to the Okanagan for another spectacular theatre event. Don't miss the world premiere of this WWII adaptation of the bestselling classic novel "The Pilgrim's Progress" by John Bunyan. Admission is by donation but a ticket is required.
Reserve your free tickets at www.willowparkchurch.com/pilgrims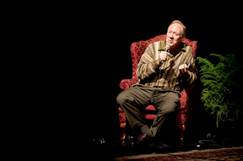 Kryon Upclose
Sunday, February 9 from 1 pm to 6:30 pm
Lee Carroll, PhD has channeled Kryon for 25 years worldwide and is the author of the Kryon Series of 16 books in 24 languages. Well known in metaphysics, Kryon books have made the top seller's list within months of release. One of his books, The Indigo Children, introduced the term "Indigo Children" to the world. Having presented 7 times at the United Nations and in 33 countries overseas, Lee attracts audiences in the thousands.
Tickets: $105 USD online at: www.kryon.com/register-okanagan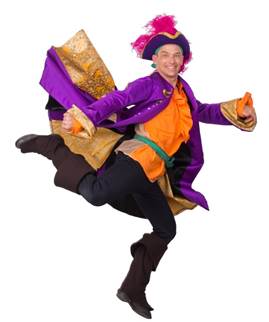 Purple Pirate Inspires Children Saturday
February 15 at 1:00pm
Dustin Anderson is an award-winning Children's Performer and he sails into Lake Country on February 15 for a 1:30 show at the Creekside Theatre with a treasure box full of magic and comedy for the whole family. The Purple Pirate's latest show- Message in a Bottle is an innovate theatre-style dance production that re-defines what it means to be a Pirate of the Twenty-First Century promoting the values of compassion and kindness.
Tickets can be purchased at the door. $8.00 singles and $5.00 for groups of 10 or more.
From Eagles to Hummingbirds: A Year of Okanagan Birds
Sunday, February 1 at 1:30pm
The Lake Country Museum is pleased to invite you to a public presentation at the Creekside Theatre on Sunday, February 16, 1:30pm. From Eagles to Hummingbirds: A Year of Okanagan Birds will be presented by local birder Pam Laing. Her 's presentation will take the audience through a year of Okanagan birds, beginning with the birds that are here in winter. They may be on the lakes, or in the woods or they may be in your back garden. We will see some of the spring migrants that return to breed here from wintering further south, and we will enjoy some of the more colourful species that brighten a summer day.
Admission is by donation. Doors open at 1:00pm.
Movie Nights
Pay what you can

Free Birds
Saturday February 8 1:30pm
Two turkeys from opposite sides of the tracks must put aside their differences and team up to travel back in time to change the course of history - and get turkey off the holiday menu for good.

Diana - Saturday February 8 7:00pm
Diana takes audiences into the private realm of one of the world's most iconic and inescapably public women—the Princess of Wales, Diana in the last two years of her  life.
The Butler - February 14 & 15 7:00pm

The story of a White House butler who served seven American presidents over three decades is recounted. The film traces the dramatic changes that swept American society during this time, from the civil rights movement to Vietnam and beyond, and how those changes affected this man's life and family.
Blue Jasmine - February 21 & 22 7:00pm

After everything in her life falls to pieces, including her marriage to wealthy businessman Hal (Alec Baldwin), elegant New York socialite Jasmine (Cate Blanchett) moves into her sister Ginger's (Sally Hawkins) modest apartment in San Francisco to try to pull herself back together again.
12 Years a Slave - February 28 & March 1 7:00pm

Based on an incredible true story of one man's fight for survival and freedom. In the pre-Civil War United States, Solomon Northup (Chiwetel Ejiofor), a free black man from upstate New York, is abducted and sold into slavery. Facing cruelty (personified by a malevolent slave owner, portrayed by Michael Fassbender), as well as unexpected kindnesses, Solomon struggles not only to stay alive, but to retain his dignity. In the twelfth year of his unforgettable odyssey, Solomon's chance meeting with a Canadian abolitionist (Brad Pitt) will forever alter his life.