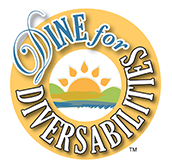 In celebration of Community Living Month, Pathways Abilities Society and Kelowna Community Development Society are pleased to present the second annual Dine for Diversabilities fundraising event.
"We are so pleased to partner with Kelowna Community Development Society on this great event," says Pathways Executive Director Charisse Daley. "We're grateful to the restaurants who have signed up to participate in this event, as it demonstrates their commitment to being philanthropic corporate citizens who really care about our community. "
Participating can't be easier. Simply go out for a meal at a participating restaurant on Wednesday, October 29 and the restaurant will make a donation to support adults with diversabilities in our community.
The participating restaurants are:
Café Soleil – 553 Bernard Avenue – breakfast and lunch
The Grateful Fed – 509 Bernard Avenue – lunch
Casa Sasso Italian Foodbar – 426 Bernard Avenue – dinner
Memphis Blues BBQ House – 289 Bernard Avenue – lunch and dinner
"The annual Dine for Diversabilities allows us to reach more people about the importance of fostering a truly inclusive community, and provides much needed financial resources to allow us to continue our work," says Daley. "We hope people will go out and enjoy a meal at on October 29 and support diversabilities in our community.
Pathways Abilities Society and Kelowna Community Development Society have a combined history of providing services to individuals with diversabilities and their families in our community for more than 90 years. By offering a combination of community inclusion, social recreation and activity services; integrated career opportunities and social ventures; and residential and home sharing services they work collectively to empower individuals with diversabilities to live fully inclusive lives where their quality of life is improved.
October is Community Living Month.
www.kcds.info