My home will be standing for another couple hundred years.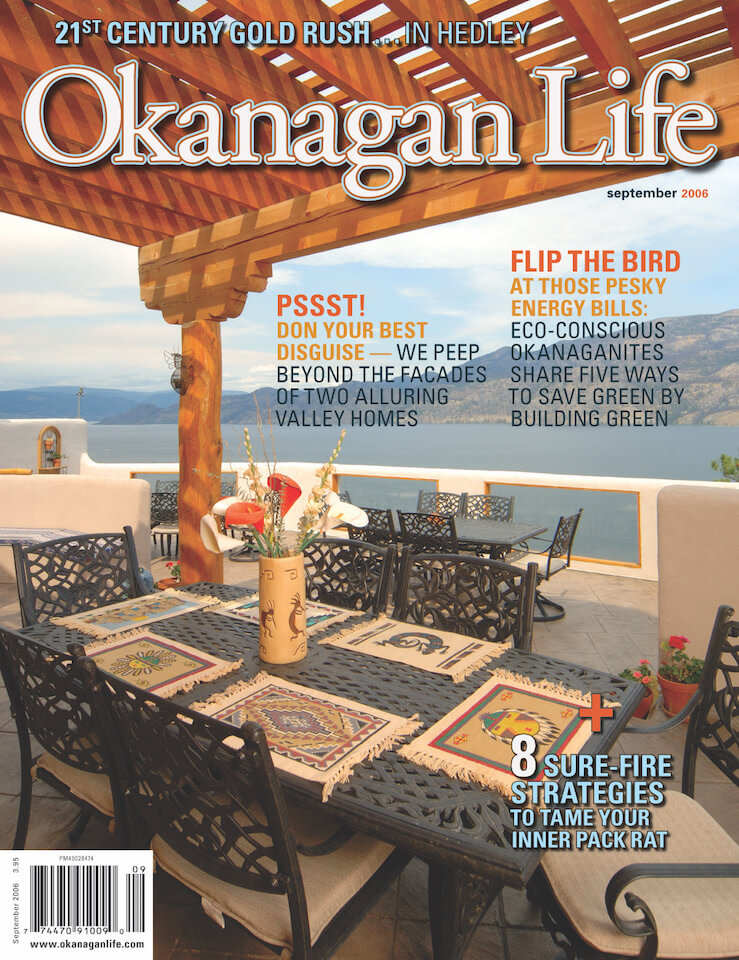 [downloads category="current-issue" columns="1" excerpt="no"]
Evi Mayer and her family evacuated their newly built Chute Lake Road home during the shocking 2003 Okanagan Mountain Park Fire. They were lucky on their return: unlike the five homes below them, completely devastated by the flames, theirs sustained only minor damage. 
For days, the Mayers had the only hot water in all of Kettle Valley — until the electrical and gas lines were repaired — thanks to the two solar panels on their roof.
"It was an unexpected bonus from having the panels installed," says Evi. "Not only did it come in handy for us, but the neighbours came over and used our bathing facilities, too." 
The Mayers' solar panels heat water in two insulated 60-gallon tanks. It lasts a week, losing only 2­–3 degrees C. During those grey, cloud-covered winter days, electricity kicks in and warms up the H2O. Over a year, says Evi, her family saves $60 a month on their water-heating bill. Over 52 24/7s, that's half the savings for seven days at a decent Mexican all-inclusive resort.
Gradually, more energy and eco-sensible Okanagan homeowners are turning to alternative technologies, products and concepts like solar water heating panels in their search to contain spiralling utility bills and live "greener." But Okanaganites are not converting as fast as they could, according to some.
"There's tons of opportunity to incorporate green living concepts into construction here, but I have the feeling that the magnitude and pace of frenetic development in the Valley has been more of a priority," says Cal Meicklejohn of Penticton's Meicklejohn Architects. "I haven't had too many clients come to me ready to incorporate energy-eco- friendly features into their home designs."
"If I were to look for green homes, I would look to areas where local buildings, building codes and community focus are converging to encourage such designs . . . New Mexico, northern Arizona, Colorado, California, Puget Sound, the Lower Mainland and the islands off the West Coast," says David Mayes who owns Kelowna's Complete Home Energy, Ltd., which for 25 years has helped Okanagan homeowners renovate their existing dwellings for energy efficiency. "We need to bring this concept to the Okanagan . . . my sense is that the Valley is still very early on the curve."
The green building movement was sparked in response to environmental awareness and the energy crisis of the 70s. The concept, through better design, construction and maintenance, is to improve the way buildings and their sites make use of energy, water and materials, without harming nature and humans.
Kudos to the professionals, businesses and homeowners who do have the vision to show the rest of us in the Okanagan what we can do to live in a more sustainable state. 
Sunny Savings
Eight 3 x 8 solar panels crown the roof of George and Marilyn Odegard's refurbished 1962 architectural home in Okanagan Falls. They provide hot water, heat floors and warm the pool during the summer. In the winter, fireplaces and a high-efficiency furnace supplement space heating. 
"The low Okanagan cloud cover isn't conducive to total solar heating during the cold months," says George, a semi-retired computer consultant who moved to the Okanagan with his wife from Saskatoon 18 months ago.
Like the Mayers, the Odegards contracted Swiss Solar Tech Ltd. of Summerland to install their panels. Owned by Roger Huber, this forward-thinking company specializes in hybrid systems that heat space, pools and domestic hot water. Take some solar panels; add a heat pump or a geothermal ground loop and shazaam! you've got yourself a pretty energy-efficient combo.
"Solar technology is ideal for the Okanagan as we get 2000 hours of sunlight per year, translating into a huge amount of energy that is not generally used," says Neil Janssen, Swiss Solar Tech's marketing director. "We'll be seeing more of it for residential use. People now feel they can make a difference and that the payback for these systems is dropping as energy prices rise. And of course, the more hot water is heated or space heated by hot water, the more money is being saved."
Neil says solar panels are easy to install in small, large, old and newer homes, as long as there is a large enough roof area and an unobstructed southern view to catch the rays. 
"With new construction, however, there is the advantage of incorporating the design at the architectural level so that the panels have a more integrated look. Also with new construction, additional energy-efficient techniques are easily incorporated."
An increasing number of Swiss Solar Tech's clients are multi-residential and resort-hotel hybrid systems.
"In a larger building where we incorporate heat pumps, we get the benefit of air conditioning and hot water production at the same time, which really increases the savings," says Neil. Examples range from 30 collectors for an 88-unit senior's housing complex in Kamloops to 102 solar collectors at the Best Western Hotel in Kelowna.
Fast Facts
Solar and geothermal systems usually cost 50 to 70 per cent less to operate than traditional energy systems. The payback for installation costs ranges from three to 12 years. Swiss Solar Tech
Jumpin' For Geo
"I would estimate that geothermal exchange systems will be the first choice of home and building owners within the next five years," says Barry Milner of Kelowna's GeoTility, a booming local company that is thoroughly thermal. "With the certainty of escalating gas and electrical utility rates and an overall social awareness of the implications of greenhouse gas emissions, geothermal technology is recognized as one of the most energy efficient, cost effective and environmentally friendly space heating and cooling options on the market."
Al and Lynn Rogers have had a geothermal system in their Kelowna home for two years, delivering continual year round heating and cooling. "We really like the constant temperature," says Al.
This is because these systems use the steady, even thermal heat from below the earth's surface, where it is stored from the sun in soil and water. Ground source heat pumps collect this heat in fluid circulating through ground loops and move it to heat buildings, water, radiant floors, pools and hot tubs. When the heat is not needed, it is removed and returned to be stored back in the ground or groundwater, providing the cool air needed in the building above in the summer. All it takes to change from one mode to another is a flick of an indoor thermostat.
At Wilden, a 2800-unit development on 2000 acres in Kelowna, geothermal is the heating and cooling system of choice. "It was a key promotional feature," says project manager Russ Foster. Homebuyers choose the type of system they want, which is then installed and maintained by GeoTility. They are then billed monthly by sister utility company TerraSource. "The average cost of the geothermal heating and cooling is $90 a month, less than a gas bill," says Russ.
Like solar systems, geothermal applications deliver even greater efficiency and a better investment return in larger scale developments like multi-family or commercial-industrial buildings. Such GeoTility projects include the Kristall Hotel/Resort Complex in Vernon, the Capital News Centre and Hotel Eldorado in Kelowna and many projects outside the Valley. 
Fast Facts
For every energy unit used by a ground source heat pump, three to four units are provided by the geothermal system, for an efficiency of 300 to 400 per cent. GeoTility
Compared to conventional heating and cooling systems, geothermal operating costs for a combined system can be 60 per cent lower with a payback achieved in residential installations within seven years.
Energetic Additions
Whether building from the ground up or adding renos to an existing home, there are many innovative energy-saving combinations that yield impressive results in addition to your standard high-efficiency appliances.
When Ralph and Carol Jameses' kids moved out of their Lake Country farmhouse, where they had been living for 30 years, they were determined to construct a new domicile with lower utility bills. They decided to incorporate a high-efficiency furnace, low-emittance argon-filled Smart Glass windows and R60 insulation in the ceiling.
"The new place is one and a half times as large as the old one," says Ralph, "and our heating bill is half."
Retired submariner Bill Nichols of Vernon went the reno route — putting in a heat pump to augment his furnace and air conditioning, then replacing windows and doors with low-E argon-filled ones. Over all, his heating bills have dropped from $200 to an astonishing $50 a month. "It cost $18,000 to put everything in, but I figure it has increased the value of my home by $45,000," he says. "And we really appreciate the quality of the air conditioning."
Today's special windows and doors have been designed to let sunlight in, but keep the heat from escaping in the winter and the interior from getting solar hot in the summer. 
A heat pump is an established, very energy efficient unit that acts as both an air conditioner and a heater. In the summer, inside air is cooled by pulling the heat out from the home. In the winter, the pump captures heat in outdoor air and sends it into the house.  
"Every year heat pumps double in sales," says Phil Hartmann of Kelowna's Emco Corporation, that exclusively carries the highly consumer rated American Standard appliances. "They are taking over the air conditioning market." 
Hartmann mentions a friend who put a heat pump in his 3,400-sq. ft. home and only paid $70 for heating in January of this year. He put one in his own 3,000-sq. ft. home in Winfield along with a high-efficiency furnace. The savings in January — despite having a gas barbecue, three gas fireplaces and a gas cooking range — resulted in a gas bill of $100 instead of $300. "For every dollar you put in, you get $3-and-a-half back." 
Tankless "on demand" hot water systems are also a nifty idea for homes, only heating water when needed. Cold water travels into the unit through a pipe, where it is heated by gas or electricity. Kjell Bodin of Penticton, who accompanied the ill-fated "Queen of the North" ferry to Canada from Sweden, installed one in April. 
"It's a very good system and only goes on when I want it to go on," he says. "There is no pilot light." He also got a $360 rebate from his gas company. 
In addition to the tankless water heater, Kjell installed a heat pump and high-efficiency furnace. "I had a really high gas bill last year," he says. "And I anticipate great savings." 
Fast Facts
Because of special glazing, 96 per cent of heat from a house is reflected back into the interior instead of escaping outdoors. Smart Glass
By installing an air source heat pump, you can reduce your combined home heating and cooling bills by 40 per cent. (They'll also give you rebates and low interest loans.) FortisBC 
The cost of operation for a high-efficency tankless water heater can be as little as 42 per cent of a standard electric water heater. GAMA Consumers Directory of Certified Efficiency Ratings
Creative Constructions
The rammed walls of Cathy Molloy and Stanley Zappa's dramatically emerging home — the first rammed earth house in the Valley — are really attracting attention in Oliver. Many lookie-loos have already toured the property, ooh-ing and aah-ing at the multi-coloured earth shell. 
"You could call it reconstituted sedimentary rock," says Cathy, who moved here from Nelson after careers in publishing, music, and finally home refurbishing. "I've always been drawn to stone and adobe buildings," she says. "And I think rammed earth really belongs in this environment. We have a climate like New Mexico."
Rammed earth construction is certainly not a new technique, being thousands of years old and found around the world from Spain to China. It's experienced a revival in the last several decades with the movement towards sustainable or green building. Essentially, it's damp soil stabilized with cement that is mechanically compacted into custom formwork.
Cathy's home was built by Penticton's Solum Rammed Earth Builders, a partnership consisting of Grant Tweeter and Nicholas Hill — she participated. 
"Rammed earth is so appealing because it is a method outside the box from conventional building," says Grant. "Each wall is handcrafted and unique. We can't see what we created until we strip the formwork off. What is left is the finished wall, inside and out . . . with the characteristic, natural aspects of rammed earth."
"These houses are natural and quiet," says Cathy. "You don't have to work as hard to heat these structures or cool them. You don't have to paint a home like this, it is low maintenance and there are low heating and cooling costs. My home will be standing for another couple hundred years."
Grant Tweeter says the costs of rammed earth vary greatly depending on the planning and design specifics in relation to the scale and efficiency of construction. "It's important to consult on the design before drawings are finalized for costs to be minimalized," he says.
The new 18,000-sq. ft. Nk'Mip Desert Cultural Centre in Osoyoos is a spectacular example of a rammed earth building, constructed by Terra Firma Builders of Saturna Island, where Grant and Nick studied their technique. 
Fast Facts
Up to an R-33 value can be achieved with a four inch rammed wall with insulation. Solum Builders
Building a rammed earth, as opposed to a conventional house, saved $100 per sq. ft. Cathy Molloy
Can't Blow This House Down
This summer, Re/Max Penticton realtor Julius Bloomfield finished building a two-bedroom straw bale home on Smethurst Road in Naramata. The big, bad wolf won't be blowing this one down any time soon —
straw bale homes are sturdier than you'd think. Originally built in the late 19th century by Nebraska pioneers on the treeless prairies; some of those homes are still standing. 
Today the bales are either stacked and reinforced to bear the weight of a roof, or used as stacked infill with a wood, metal or masonry frame to provide insulating walls. Julius stuccoed the straw bales of his home that faces south for maximum solar exposure. 
Fire? The tight packing of the straw and its high content of silica make the homes surprisingly flameproof. And these practical structures are enjoyable places in which to live.
"These kinds of homes have a very organic feel to them," says Craig Henderson, director of Naramata Conservation Initiatives. "And they are warm, providing great acoustics and a wonderful, comfortable sense of place."
Julius didn't spend a fortune building his novel house — the budget came in at a relatively modest $275,000 for 1750 sq. ft.
Another straw bale building in the Valley is the winery and tasting room of Cawston's Orofino Vineyards, which opened this summer. 
Fast Facts
A straw home is more energy efficient than a traditional brick house by 25 to 40 percent, achieving insulation values of R-40, twice that of standard frame homes. Canadian Mortgage Housing Corp.
Read more of the original stories celebrated in our 30th-anniversary issue.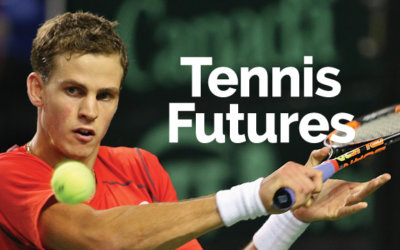 <h3>As seen in</h3><!-- [et_pb_line_break_holder] -->[downloads ids="130450" columns="1" excerpt="no" columns="1"]<!-- [et_pb_line_break_holder] -->[downloads category="current-issue" columns="1" excerpt="no"] It was an overcast July...
read more