Urban wildlife worries: Keeping deer out of the garden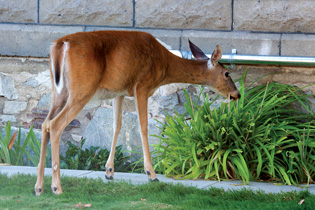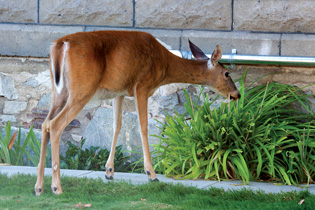 Moving to the city of Penticton after spending most of my life in close proximity to bears, wolves, coyotes, moose and deer, I expected more traffic, noise, and people. What I didn't expect was more frequent encounters with wildlife. Our neighbourhood's just half a block from one of Penticton's busiest streets, yet we are treated to unsolicited episodes of pruning, applications of fresh manure, evening yap-and-howl jamborees, and graphic evidence that our pets are being culled.
Coyotes are seldom welcome anywhere, but there was a time when a chance encounter with a deer would have us holding our breath in wonder, fearing the slightest movement would make the timid creature bolt for safety. Not any more. Yell, clap, wave your arms and jump up and down. Today's urban ungulate is thoroughly unimpressed.
Daryl Myers has lived in the Sendero Canyon area of Penticton's east bench for more than 20 years, on the edge of undeveloped land. Until recently, deer would rarely wander onto her street. "If you saw them, they would run away," she says, but that's changed. "Since 2011, they've made this their home."
Indifferent to her presence, they climb her front steps to munch her shrubbery. Just three days after she erected a new fence, she found four of them bedded down in her back yard. When Daryl's dog needs to use the yard after dark, she starts stress-barking as soon as she gets outside—probably just to get a sense of where exactly the deer are tonight. Daryl says they might twitch an ear or move their heads. "They certainly don't get up."
Some say this incursion is to be expected. After all, they were here first; it's their territory. If so, where were they just a decade ago—and why are they taking it back now?
Even prior to development, the west side of the city wasn't particularly good deer habitat. "The valley bottom, historically, was pretty swampy," says Brian Harris, a biologist with the Ministry of Forests, Lands and Natural Resource Operations. "But a good portion of the east part of the city—all the benches up on the east side and the orchards and the subdivisions—same with the West Bench—is all right on mule deer winter range."
The original orchards were relatively compatible with deer, but as compact high-density fruit trees became the norm, orchardists began fencing deer out. Today, those orchards are giving way to well-fenced vineyards; these spread further out and up our hillsides, as does the city itself. In 2011, the Sendero area was cleared of trees in preparation for urban development; now another substantial development is planned for the Spiller/Reservoir Road area.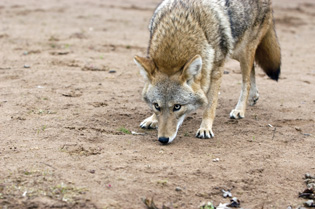 Displaced from the benchlands, what's a deer to do? It's colder uphill, where forest fire suppression has degraded their habitat. That's where cougars live and smaller predators hunt in packs. But just downhill, there's plenty to eat. Most backyard fences are easily jumped; then they provide ample protection against the elements and hungry coyotes, while dogs aren't allowed to pack or attack.