Kelowna Mayor Walter Gray, broadcaster Mike Roberts and artist Robert Dow Reid recall historic cover stories 
Okanagan Life magazine is marking its 25th year milestone in publishing with cultural celebrations across the Okanagan Valley.
"Our anniversary is an opportunity to celebrate some of the amazing spots we have in the Okanagan – and its people," says publisher John Paul Byrne. "Throughout the years, our magazine has shared the stories of the Okanagan Valley and its communities and culture – and now we're celebrating with music, song and great food."
The city and regional magazine, which publishes ten times a year, first came off the press in September 1988. On that cover was well known local sculptor, Robert Dow Reid, creator of the iconic Spirit of the Sails, installed in downtown Kelowna in 1978.
Most known for people profiles, Okanagan Life and its special publications have featured community activists as well as business leaders, including Mayor Walter Gray, featured on the cover of Okanagan Business in June 1989, and broadcaster Mike Roberts in the Best of the Okanagan feature in Fall 1996.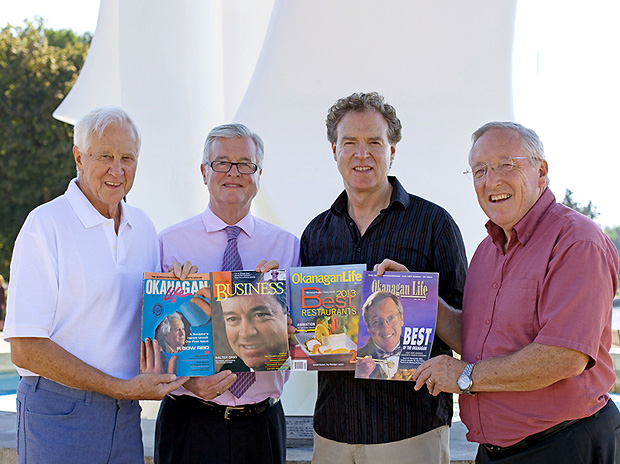 With a circulation from Salmon Arm to Osoyoos, Okanagan Life has partnered with heritage sites, theatre companies, arts galleries and best restaurants to celebrate from the north to the south of the Okanagan Valley.
Cover icons Gray, Roberts and Reid with join other community trailblazers at a gala anniversary celebration on November 22 at Kelowna's Delta Grand Okanagan. Dubbed the "Cover Party," the evening of fine food, music and celebration is a fundraiser for Kelowna Ballet.
"We worked with the Delta Grand to create an exceptional evening and we're very excited to mark our milestone anniversary in support of Ballet Kelowna," says Byrne. "Over the years, we've taken great effort to support local charities and arts groups in communities across the Valley and our anniversary is no exception."
Also in the line-up is plenty of family fun, including a ride on the Kettle Valley Steam Railway in Summerland on Sunday, October 13 and a $2.50 afternoon swim at the H2O Adventure & Fitness Centre on Sunday, October 20.
Art and theatre lovers can join events at Kelowna and Vernon Art Galleries and a special performance of Sentimental Journey with Theatre Kelowna on Saturday 29. Art and wine will be the showcase of Perfect Palate, which blends wine tastings with works by Lee Claremont, Alex Fong, Louise Lambert and others along the waterfront at The Cove Lakeside Resort in West Kelowna.
"Our celebrations extend from September until the end of the year, and are sure to be a showcase of some of the best the Okanagan offers," says Byrne.