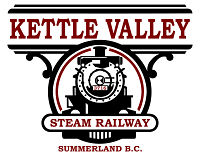 Sunday, October 13, 2013   1:30 p.m
18404 Bathville Road, Summerland
Map and Directions | Register at 1-877-494-8424
Okanagan Life has partnered with the Kettle Valley Steam Railway in Summerland to showcase a unique part of the history of the Okanagan as we celebrate our 25th Anniversary. Voted Best Tourist Attraction by the readers of Okanagan Life, the Kettle Valley Steam Railway offers spectacular views and an authentic historic setting.
You'll travel the only preserved section of the historic railway along 16 km of beautiful vistas, from lush orchards and vineyards to a spectacular view of lake and land from the Trout Creek Bridge, 72 metres above the canyon floor. The sight and sound of the restored 1912 steam locomotive will bring the era alive as you ride along on this journey in a vintage passenger coach or open air car, all the while enjoying live music.
The anniversary train leaves the Prairie Valley Station at 1:30 pm for a 90 minute ride then join us afterwards for refreshments and celebration.
Reservations are required. 1-877-494-8424