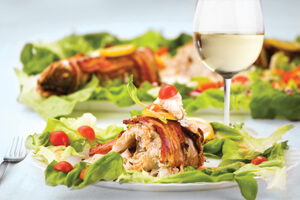 attracting young, creative, passionate chefs
Credit the surging wine industry for the emergence of winery restaurants committed to local food culture and for attracting young, creative, passionate chefs, some with roots in the Valley. These talented "locals" captain dynamic kitchens, adding depth and commitment to the burgeoning wine country dining scene.
Terrafina at Hester Creek
"More top chefs are staying here," says Jeremy Luypen, owner/executive chef at Hester Creek's newly-minted Terrafina, who also substitute teaches at Okanagan College. The Aldergrove native graduated from Okanagan College at the top of his class 11 years ago. After working his way up to sous chef at Okanagan Golf Club, he accepted the executive chef position at Chicago Chophouse in Calgary, before returning to the Okanagan to preside over the restaurant at Hotel Eldorado.
With the opening of Terrafina in the spring of 2011, he fulfilled his dream of running his own restaurant. Inspired by the simplicity and style of the Tuscan hills, Jeremy's cuisine relies on 14 local producers and artisans, such as Harker's Organics and Covert Farms. For Jeremy, the fun is in creating flavours on the menu that aptly complement Hester Creek wines.
Sonora Room at Burrowing Owl
While I was visiting The Sonora Room Restaurant at Burrowing Owl, executive chef Chris VanHooydonk received a visit from one of his suppliers, the Okanagan Nation Alliance. "It is important to support their efforts to run the only sustainable fishing operation in the Valley, sourcing sockeye salmon from Osoyoos Lake," he says.
After a year at Okanagan College, Chris apprenticed at the Harvest Dining Room, earning his red seal certificate in 2001 with the highest marks in the class. He worked on a cruise ship and at Ciao Thyme Bistro in Whistler before moving to the Four Seasons Hotel in Boston. Returning to the Okanagan in 2010, he took on executive chef duties at The Sonora Room.
Chris's passion for local produce includes operating a half-hectare farm at his home on the Golden Mile, which provides an array of fruits, vegetables and herbs as well as the ingredients for a line of preserves and sauces only available at the restaurant. Chris works closely with Burrowing Owl winemaker Bertus Albertyne to create memorable pairings for his culinary inspirations.
~Michael Botner
More: Vintage Style