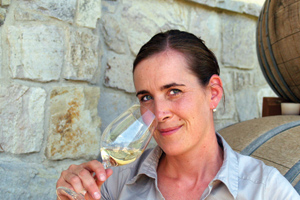 Relocating to the South Okanagan from the south of France has been overwhelmingly positive for Severine Pinte. Arriving at Le Vieux Pin in August 2010, she has taken over with gusto as head winemaker at the 3,500-case a year operation on Black Sage Road near Oliver. She comes here with extensive knowledge in her chosen field that reaches back to Lille in the north of France, where she was born.
"I've always been surrounded by wine," she says. She studied at the highly regarded Montpellier University, graduating with a degree in agronomy and a masters in viticulture and oenology. Except for stints at Domaine de Chaberton in Langley (1999) and Frankland Estate in Western Australia (2003), Severine has worked for large enterprises in France since apprenticing with Cave de Técou.
After a year in Bordeaux under André Lurton, she returned to the Languedoc to direct the Vignerons du Sommiérois. For nine years she was head winemaker at Le Vignoble des 2 Terres in Saint-Felix-de-Lodez before taking up her post at quality obsessed Le Vieux Pin, where the focus is on French style wines made in small lots and even the winery is Provençal in design.
Severine says it's a perfect match. "The grapes we use include Syrah and Viognier, as well as Pinot Noir Rosé, among my specialties….The climate is the biggest challenge. But in five to ten years, a lot more people will know Okanagan wines." –Michael Botner