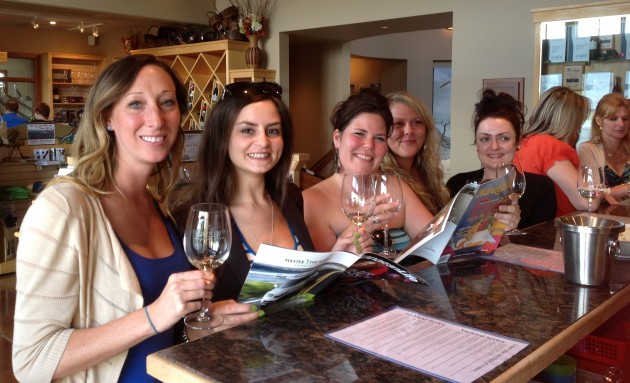 The Okanagan Wine Festivals Society is delighted to announce the 34th annual Fall Okanagan Wine Festival next month. From October 3 to 13, the festival is again expected to attract over 10,000 visitors who enjoy more than 125 events throughout the Valley during the busiest time of year for British Columbia's wineries, the grape harvest.
New this year for the Fall Festival, the Valley First Grand Finale Consumer Tastings on October 10 and 11 in Penticton will have a particular focus on what many consider to be one the best suited varietals for the Valley, Pinot. There will be a special Pinot Bar featuring Pinot Noir, Pinot Gris and Pinot Blanc along with a new interactive sensory station staffed with instructors from Okanagan College's Viticulture and Wine Studies program.
The largest Festival event in the Valley, the Grand Finale showcases over 80 wineries, two bands, gourmet Canadian cheeses, and two free fun and educational seminars – Wine 101 and Canadian cheese and wine pairings.
Indicative of the popularity of the B.C. wine industry, the Okanagan Valley was recently voted the second best wine region in the world to visit by the widest newspaper in circulation in America, USA Today.

"Like the maturing of the B.C. wine industry, so have the Okanagan Wine Festivals successfully evolved over the years," says Eric von Krosigk, Chair, Okanagan Wine Festivals Society & Winemaker, Summerhill Winery. "It would have been unheard of over three decades ago for us to be named one of the best wine destinations in the world and now people worldwide are taking notice of our wines. With 34 years of events, the Festivals have really come of age and been an integral part of this success, providing easy access to the beautiful wines of B.C."
Last year the grape harvest for B.C.'s 217 wineries was a record at just over 31,000 tones from approximately 10,000 acres of vineyards. This year with a gloriously hot and sunny summer and 234 wine grape wineries now operating along with more vineyards planted, another record vintage could be imminent. This comes on top of the outstanding success of B.C. wine, which is thriving with consumers with sales of B.C. VQA wines at a record high reaching 20.3% this summer with growth outpacing overall wine sales growth and all other alcohol categories.
"The tremendous growth in BC VQA wine market share is attributed to winery direct sales - primarily tasting room purchases, that now represent the single largest channel for BC VQA dollar wine sales in British Columbia," says Miles Prodan, President & CEO of the BC Wine Institute. "That kind of growth can only be achieved through increasing wine tourism and consumers visiting wineries."
The Fall Okanagan Wine Festival offers sensory delights that span the Valley's unique terroir from the Canada-US border to Kamloops. It's a fabulous way to celebrate all things local, enjoying B.C. wine and cuisine directly from the source. Savour the terroir and taste the dishes of our iconic tastemakers at the numerous Signature and winery events. The festivities kick off with the Annual B.C. Wine Awards Reception on October 1 and wrap up on Thanksgiving, Monday October 13. Event and ticket information is available at www.thewinefestivals.com.