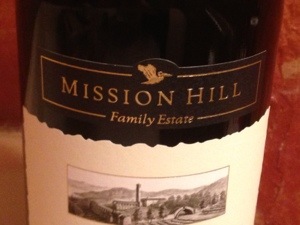 Mission Hill Family Estate took on the best in the world and won top honours as 'World's Best Pinot Noir' in the under £15 category at the Decanter World Wine Awards in London, England.
More than 14,000 wines from 61 regions around the world were entered in the competition in 2013. Mission Hill 2011 Martin's Lane Pinot Noir won a coveted International Trophy – the competition's top award, the first time a single wine variety (red or white) from any region in the world has won both a Regional Trophy for 'Best Wine' and an International Trophy for 'World's Best Wine' at the Decanter Awards.
"This is a ground-breaking achievement for Mission Hill," said Steven Spurrier. "To receive an award at this level is quite an achievement and an important recognition for the quality of Pinot Noir produced in British Colombia's Okanagan Valley."
"I was totally shocked when I learned that our Pinot Noir was named best in the world," said Mission Hill's Proprietor Anthony von Mandl, O.B.C. "I am still in awe that a wine from the still emerging Okanagan Valley could win against the best Pinot Noir in the world from Burgundy, Sonoma Country, Oregon, and New Zealand. This is a seminal moment for the entire Canadian wine industry!"
In 1994 Mission Hill Family Estate put the Okanagan Valley on the map by winning the International Wine & Spirit Competition in London for 'Best Chardonnay in the World' and at the time the Master of Wine Judges were in such disbelief they re-tasted all of the wines and Mission Hill won a second time.
"I never could have imagined that lightning would strike twice," continued von Mandl. "This is an incredibly proud moment for my family and the realization of my life-long dream to produce wines of exceptional quality right here in the Okanagan Valley that could stand alongside the best in the world."
The Decanter World Wine Awards are judged by 219 individuals from 27 countries, including 75 Masters of Wine and 13 Master Sommeliers. The Decanter Trophy follows Mission Hill's recent 'Canadian Winery of the Year' win at the 2013 WineAlign National Wine Awards. A complete listing of all recent awards can be found at missionhillwinery.com